That Was, Like, Awesome
In December, we featured linguist and cultural critic John McWhorter.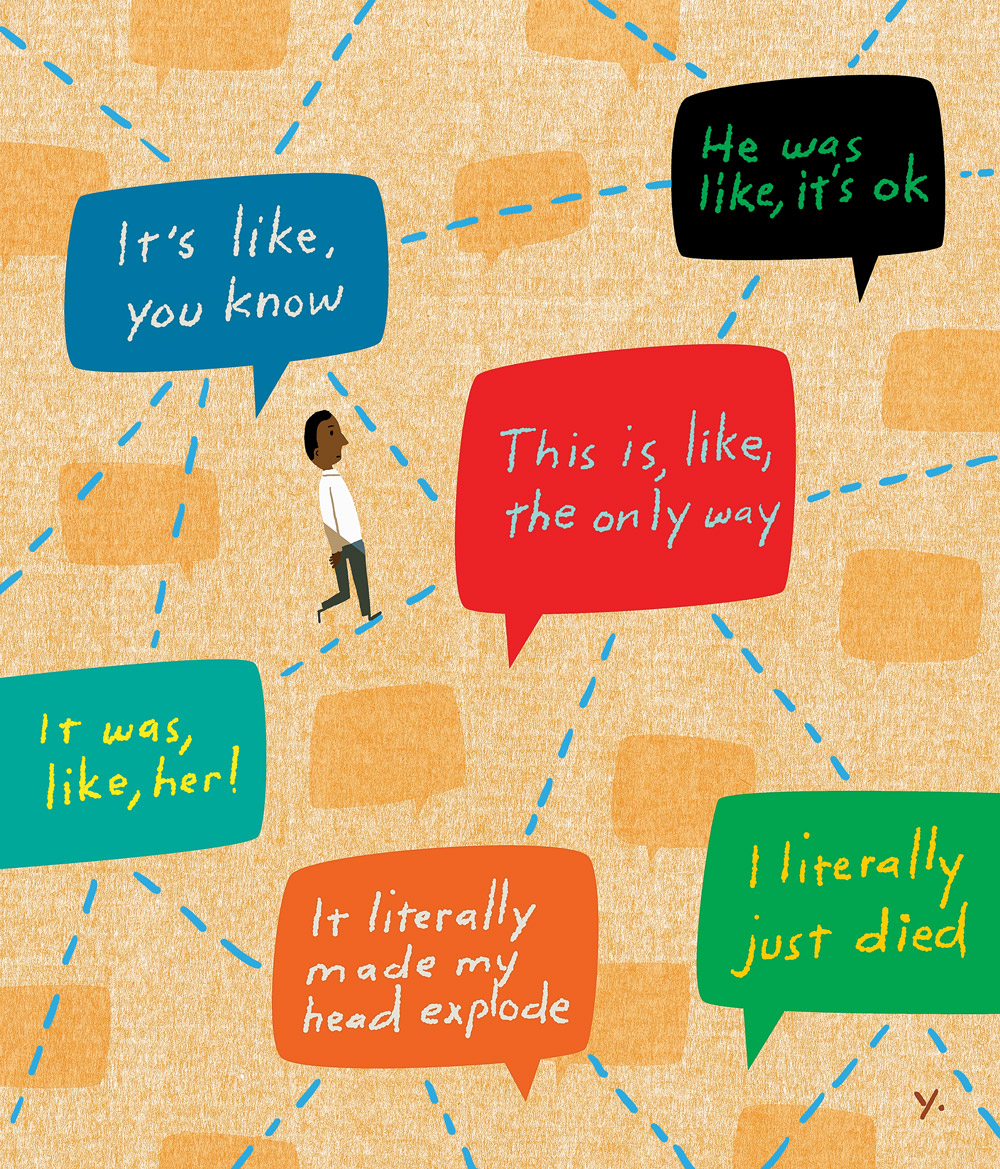 'Wow! @stanfordmag did a profile of me (I did my doctoral work there) that precisely gets what I am and am not. That's understandably been rare for me in pieces like this. I am, dammit, touched!'
John McWhorter, PhD '93
@JohnHMcWhorter
Illustration: James Yang
---
No. 22
Our December cover story postulated 21 ways your life might (or might not) be different in 2021. We asked you what we missed.
You invited suggestions for No. 22. This should have been No. 1:
Newly aware of the inequities in our society, and how harmful they are not only for those disadvantaged but for our nation as a whole, you will commit to working so that everyone has access to health care and all workers are entitled to paid sick leave.
Esther Portnoy, '66, MS '68, PhD '69
Hillsboro, Oregon
---
The world will finally get real data on how lower carbon emissions affect global warming. The pandemic has created a natural experiment.
David Heckerman, MS '85, PhD '90, MD '92
Bellevue, Washington
---
Not only will you get offered a vaccination that many Americans will decline, but many activities (and returning to work) will require you to show proof of vaccination.
Pete Bevelacqua, MS '05
Sunnyvale, California
---
It seems 2020 has been a horrible year not just for the tragic human toll, but also for the demise of favorite businesses—restaurants, bars, theaters and so on—and publications. Given that, all I wanted to say is that I appreciated your December 2020 issue and all the work that went into it during these trying times. 
Like most people these days, I'm online via one device or another during pretty much every waking hour. But that just makes it all the more precious to spend lunchtime sitting in the sun and skimming the magazine. In this context, print is irreplaceable.
Jonathan Angel, '78
Salinas, California
---
For some years now, Stanford has gradually reduced its offerings of in-depth, analytical journalism, moving towards noticeably short, lightweight articles and massive amounts of photographs/photojournalism and artwork ornamentation. The recent December issue is an example of this trend. If modern intellectualism no longer tolerates depth and complexity, is it still intellectual, or are we just pretending?
Frederick James Crowe, '71
Dayton, Washington
---
The Owl's Wisdom
In December, we talked with Juan Gonzales, MA '77, about the weekly newspaper he founded 50 years ago, El Tecolote.
Juanito and the paper are amazing institutions in the Mission. I'm one of the few Latino Stanford grads to have been a member of the Teco collective, and probably its first paid employee. I wrote, translated, illustrated, set type, produced halftones, sold ads, delivered papers and kept the books, among other jobs. I'm happy that there is a bit of me in that Stanford layout: I took the uncredited photo of César Chávez and designed the El Tecolote masthead on the paper in his hands. I went on to spend 25 years as a reporter at California dailies and now write speeches for the speaker of the California Assembly.
Carlos Alcalá, '79
Sacramento, California
---
Glimpses into the ways Juan Gonzales has recruited, mentored, motivated and guided numerous staff and volunteers have lessons for all of us who aspire to meaningful lives.
Congrats to Tecolote and all those who have contributed to it. Imagine our democracy if similar efforts were replicated all over the country!
Karen Christensen Hollweg, '64, MA '66
Boulder, Colorado
---
'Choosing Teams'
A 2019 article on that year's Cardinal congressional freshmen included Sen. Josh Hawley, '02. The January 13 and January 26 editions of our Loop newsletter contained Stanford scholars' and lawmakers' reactions to the events of January 6, including Hawley's objections to certification of the presidential election.
With great dismay I watched the un-American and tawdry events in our nation's capital on January 6. Your hagiographic article featuring Josh Hawley came to mind. His blatantly opportunistic actions in Washington were clearly fueled by blind ambition. From now on, please limit Hawley's coverage to hard news. He doesn't deserve to be mentioned in the company of other distinguished Stanford family members such as Sally Ride, Dianne Feinstein, Sandra Day O'Connor or Cory Booker.
William Yost, MS '83
Seattle, Washington
---
McCarthyism is raising its ugly head. After fraud charges in several states, Sens. Hawley and Cruz were asking for a committee to investigate. This was a very reasonable request, and our Constitution gave them the right to make it. Shame on those who are shaming them.
Sally Randall Swanson, '58
Boyne, Michigan
---
With regard to the attack on the Capitol, it was wrong and unacceptable and is universally condemned. Shouldn't Stanford have both lenses on what is going on in the United States—not just a left-leaning lens? America needs both sides to be well represented and communicated. 
If, for example, a form of totalitarianism is currently creeping into America from the left (see the warnings of Alexander Solzhenitsyn in his writings, in part from the Hoover Institution), should Stanford be complicit, wary, on guard or at least aware?
Americans seem to be choosing teams and going with their teams' ultimate conclusions, instead of critically thinking and observing where the reaction to these events may be taking us. Is this precisely what Solzhenitsyn warned against?
Jack Connelly, '78
Tacoma, Washington
---
I am concerned that there were not more commentaries from other Hoover Institution scholars, who could provide their unique insights on the events of that day.
Brian Ferrilla, MS '86 
Detroit, Michigan
---
Where is the response from the current faculty at Stanford to Hawley's actions? I'm unclear why Hoover Institution viewpoints are being elevated for alumni over current professors, or even current students.
Collin Christner, '17
Ann Arbor, Michigan
---
Unbreakable Bubble
In the last issue, we learned how Leroy Sims, '01, MS '02, MD '07, kept 1,500 NBA players, staff and families COVID-free. He has since been named the league's senior vice president of medical affairs.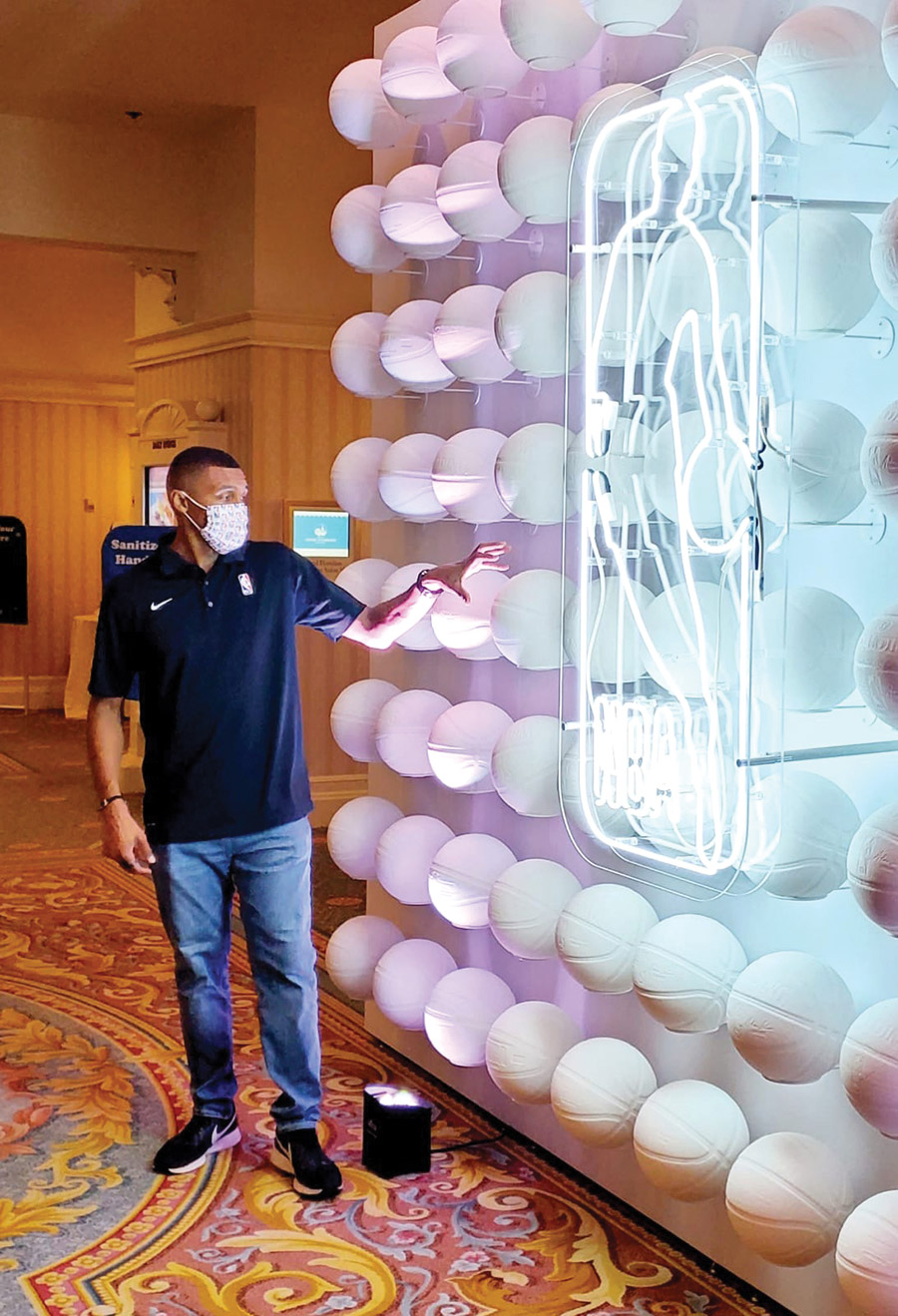 This profile made me tear up. Thank you, Leroy Sims, for all that you do to give back and help others.
Jean Chow Cripps, '04
-
Reading this made my heart swell with pride! Well done, Leroy! 
Afua Ofosu-Barko, '02
-
The NBA Bubble has been a Beautiful Experiment! Congrats to medical director and @Stanford Alum Dr. Leroy Sims. 3 Months and ZERO Cases!! 
Jesse Pruitt, Stanford assistant men's basketball coach
Photo: Courtesy Leroy Sims
---
American Tune
In his December column, Stanford president Marc Tessier-Lavigne discussed what the university is doing to mitigate the challenges faced by its international students, faculty and staff.
I dreamt of coming to the U.S. as a high school student living in the suburbs of Sydney, Australia. Arriving on campus, I was in awe of the diversity of thought and race, and the richness of academic and social opportunities. At Stanford, I studied U.S. history to better understand this country that had captured my imagination. After graduate school in the U.K. and starting my career in Hong Kong, I returned to the U.S. because I love this country and what it represents. I applaud the university's efforts in supporting the international community.
Shelley Gao, '11
New York, New York
---
Taxonomy Season
In December, we collected flora and fauna named for the Farm.
Stanford by any other name is still as sweet. But you left out Hennediella stanfordensis, aka Stanford screw moss (it twists when drying). Until recently, no one had seen it on campus since it was found at the corner of Mayfield Avenue and Frenchman's Road and described (as Tortula stanfordensis) in 1951 by professor W.C. Steere. On October 7, 2020, it was found again in cracks of the drying Searsville lakebed mud during a survey by members of the Oakmead Herbarium team at Jasper Ridge Biological Preserve. Rarities are still to be found!
Rebecca Reynolds, '71
Portola Valley, California
---
Slip-Sliding Away
December's Postscript essay explored change as a survival mechanism, as taught by a sea cucumber.
Thank you, thank you, thank you. The essay was a perfect lesson at an important juncture.
Charles "Chip" Storey, JD '88
St. Augustine, Florida
---
Correction
A letter in the December issue contained incorrect dates for the founding of two overseas programs. Stanford in Germany was established in 1958 and the British program in 1965.