Chris Bobel would cringe whenever he heard the chant rising up from the Sixth Man Club: "We want Bo-bel!" Don't get him wrong, it was nice to be recognized by the student fan club, and usually the chant signaled that the Cardinal men's basketball team was far enough ahead in a game that coach Trent Johnson could risk sending in the walk-on. On the other hand, says Bobel, '06, now the team's video coordinator, "I didn't want him to feel forced to put me in. I was content to be on the bench and be our team's most vocal guy supporting from the sidelines. It wasn't about playing time, it was about winning."
Bobel has the passion and attitude that coaches love. If he had all the other things coaches covet—extraordinary height, speed, strength and talent—Stanford, or some other Division I school, would have snapped him up out of high school. Even without all that, the 6-foot-2 player with above-average skills could have been a star at the Division III level. A two-time all-league selection at Palo Alto High, Bobel was courted by Swarthmore to be its starting point guard. But like scores of other Stanford walk-on athletes, he chose the path of most resistance: five hours a day laboring in obscurity to play—to practice, really—a game he loves at the highest collegiate level in return for no tuition break and precious little playing time.
There are approximately 800 varsity athletes at Stanford, but only about 480 of them receive full or partial athletic scholarships. All the others pay their own way (or receive regular need-based aid), thereby falling into one of two categories of the nonscholarship athlete. Most are recruited walk-ons—athletes who were sought after by a coaching staff and whose admissions files were duly flagged. The rest are "true" walk-ons, who knock on a coach's door out of the blue, and prove they have the chops to make the roster. Often they are high school record holders or league MVPs who turned down scholarship offers at smaller Division I or Division II schools or, like Bobel, have passed on the promise of a starting job at a Division III school. They arrive at Stanford with a spectrum of dreams: some simply yearn to don a Cardinal uniform and score a point or two; others aspire to play professionally. None are obligated to anyone but themselves.
Glenn Matsumura
SELF-STARTER: "The only thing a walk-on has to do is prove something to himself," Newhouse says.
"No walk-on is doing it because they feel they have to," says fifth-year long snapper Brent Newhouse, who walked onto the football team as a freshman and earned a scholarship two years later. "The only thing a walk-on has to do is prove something to himself. It's a battle, it's overcoming a challenge, and that's why a lot of guys stay in it. A lot of guys have always dreamed of playing, say, college football, of being out on the field. They want to see that dream actualized."
By making that attempt, walk-ons serve an important purpose in society, says Dr. Richard Southall, director of the College Sport Research Institute at the University of Memphis. "Walk-ons provide validation to the myth of college sports, which is that everybody is doing it for the love of the game." Women's basketball coach Tara VanDerveer concurs. "Walk-ons keep things real," she says. "Sports is about the passion of playing, but when you add in money, it changes things a little bit. Walk-ons are there only because they want to play."
Take Markisha Coleman, who grew up in East Palo Alto and started coming to Stanford women's basketball games and camps as a girl. "When I was younger I really wanted to play basketball for Stanford," she says. "When I was in high school, I wanted to go here because of academics, too." Coleman, '07, chose Stanford over Brown and Dartmouth and walked onto the basketball team as a freshman. Two years later, after distinguishing herself as a tenacious practice player, she earned a scholarship. She never played much, but she found satisfaction in her role. "Even if the coach doesn't call you into a game, it's still your victory," she says. "You work hard in practice, you make your teammates better."
For this and other reasons, walk-ons are valuable to coaches, so much so, points out football coach Jim Harbaugh, "that the NCAA now regulates how many you can have." (Partly as a cost-containment measure, the NCAA mandates that a football team can't have more than 105 players—and thus 20 walk-ons, assuming a full complement of scholarship athletes—in preseason camp. After the first game or the first day of school, when walk-ons presumably are paying for their own food and housing anyway, a team can have as many as it wants.) At some schools, walk-ons are useful for raising a team's GPA and graduation rate. They add bodies at practice, of course, and they can provide a convenient motivational prod for stars who slack off. "I tell guys all the time, 'My goodness, look how hard Bobel or Kenny [Brown, '08] is working . . . maybe I should give him your scholarship,'" says Johnson. "You don't think that motivates them?"
Earning a scholarship is a goal for most walk-ons, particularly in well-funded sports like football and basketball. It doesn't just provide tuition, it provides validation. "Getting your education paid for makes you feel like you have talent," says Coleman.
Glenn Matsumura
WORK ETHIC: Paye, who played for six years in the pros, "was very coachable and smart," VanDerveer says.
Indeed, a few true walk-ons turn out to have plenty of talent. Baseball coach Mark Marquess tried to dissuade twins Chris and Jason O'Riordan, both '02, from trying out for the baseball team nine years ago. Chris went out anyway, becoming a three-year starter at second base and an eighth-round draft pick of the Texas Rangers. (Jason, meanwhile, focused on academics and graduated Phi Beta Kappa.) Wide receiver Greg Camarillo, '04, whose name is frequently and reverently invoked by Stanford football walk-ons of every position, walked onto the football team as a freshman, earned a scholarship two years later and is now with the Miami Dolphins. Kate Paye turned down scholarship offers at Cal and Arizona to walk onto the women's basketball team as a freshman. Paye, '95, JD/MBA '02, earned a scholarship the next year, was the starting point guard her final two years and played professionally for six seasons. "Kate bought into a different level of intensity at the college level; she really outworked people," says VanDerveer. "She was patient and listened and was very coachable and smart. And whereas other people were ahead of her in high school, by the time she graduated, she was ready for the pros."
Despite all her success in the game, Paye still thinks of herself as a walk-on. "It's something I take pride in," she says. "I created my own opportunity, and I fought for it and worked for it. I took a chance on something I believed in—myself. Besides, I like to tease all my Stanford teammates that I got in without being an athlete. I got in on my own."
Because there are rarely enough athletes interested in walking onto a given team at Stanford at any one time, mass tryouts are rare. Those who aren't on a coach's radar need some tenacity and persistence. Aaron Zagory, a 6-foot, 185-pound redshirt junior kicker, was all-conference at Yellow Springs High in Ohio, yet he went unnoticed by recruiters. He wasn't ready to quit the game, so after he was accepted to Stanford, he started contacting the football office. The frequency of his calls depended on "my level of inhibition at the time," he says. "I didn't get much response. But then, I don't know if they were allowed to call me back."
Zagory arrived at Stanford in the fall of 2004 along with all the other nonathlete freshmen. He placed a few more calls to the football office and finally was offered an individual tryout during the week leading up to the USC game, in late September. "I was so excited I skipped an [Introduction to the Humanities] section for it," says Zagory. Then-coach Buddy Teevens liked what he saw and invited Zagory to join the team the following week. Zagory saw no game action his first two years. But with the 2006 graduation of kicker Michael Sgroi, he became the starting place kicker, making 8 of 13 field goal attempts and 13 of 15 points after touchdown to lead the team in scoring, with 37 points. Zagory hasn't earned a scholarship, but "I've made a lot of great friends," he says. "And I think the rigors of playing football make everything else that much easier. The academics aren't quite so difficult as going out at 6 in the morning and doing winter conditioning."
At some point, all walk-ons question whether spending five hours a day practicing a sport with little chance of playing it is the best use of their time. "Of the six walk-ons that came in my class, only three are left," says redshirt senior wide receiver Mike Miller. "There are times you think, why am I doing this? Why am I going through this? Certain scholarship guys say to us walk-ons, 'Man, I can't believe you do this. We're stuck in this.' So I think sticking with it is a great accomplishment. It really shows loyalty and dedication."
Not that it's always clear who is a walk-on on the football team. "If you put walk-ons in a lineup with scholarship guys, other scholarship guys might not be able to tell you who the walk-ons are," says Newhouse. The walk-ons can identify each other, however. "It's not like we have support meetings after practice, but we know who we are." At Stanford there are few distinctions made between walk-ons and scholarship players—everyone gets a locker and their name on their jersey—but there is one, mandated by the NCAA, that is significant: walk-ons are not allowed to eat at training table (available to football, both basketball teams, and women's volleyball, tennis and gymnastics) unless they pay for that food on top of their regular meal plan. "That one kind of sucks," says Newhouse. "Guys really bond talking about practice after practice." Plus it creates another inequity: walk-ons aren't getting the same fuel as everyone else. "Nutrition is so important to performance," says redshirt senior and starting center Tim Mattran, another former walk-on. "If you're trying hard to get your performance noticed and you're hindered even just a little bit, I think it can be a disadvantage."
Glenn Matsumura
FROM SCRUB TO STAR: Stringer led the team in ERA, appearances and saves this year.
Walk-ons, particularly in football, also get fewer chances to shine. Practice repetitions can be tough to come by, and opportunities to get in a game might materialize once a season, if at all. Second chances are even scarcer. As a redshirt freshman in 2005, wide receiver Kelton Lynn didn't get a chance to play until the third game of the season, against Oregon. He went in for one play and got knocked down. He didn't see action again all year. "It's hard to get into a rhythm when your head is spinning and you're in a college game for the first time," he says. "It's so frustrating to get just one chance and then have it not go well. I had the whole season to think about that one play."
The 2006 season, however, was a different story. With the receiver corps thinned by injuries, Lynn not only saw action in 11 of 12 games, he started five of them. "After you've gotten those starts and played full games, it changes your whole attitude," says Lynn, who had 19 catches and scored two touchdowns, including one at Notre Dame. "I can get into one or two plays up at [the University of Washington] when it's freezing out and feel totally relaxed and confident that I can play and do whatever they ask of me."
Getting up to speed with his teammates was likewise crucial to the career of senior pitcher David Stringer. An all-leaguer at Palo Alto High, Stringer had been told by coaches at Division-III Pomona and Division-I Davidson in North Carolina that he'd have a spot on the team and a decent shot at getting playing time. Stanford, the school he had always envisioned himself at, made no such promises.
"I agonized over whether to come here," says Stringer. "I knew that coming to Stanford under those conditions might mean the end to my baseball career, and I didn't know if I could accept that." Shortly before his decision was due, his adviser told him that if there was one place he'd really regret passing up, he should go there. "That was Stanford all the way," says Stringer. "It had the best blend of academics, a fun social life, and the opportunity to play collegiate baseball. I would have regretted not knowing if I could elevate my game to the Stanford level and never giving myself any chance to fulfill my childhood dream."
Stringer got one start as a designated hitter his freshman year and didn't pitch a single inning. The next year he pitched 47 innings, mostly in relief. "That was more than I expected," he says. "I think I was able to pitch my sophomore year because I went to Stanford my freshman year. That year was a phenomenal learning experience, especially regarding the work ethic needed to succeed at this level." This year, Stringer was one of the bright spots on a struggling pitching staff, leading the club in ERA (4.70); appearances (31) and saves (7).
"I think a walk-on has a good chance to make it at Stanford because we don't have the numbers," says Marquess, '69. "We don't recruit [junior college] guys; we don't have a lot of guys."
A lack of numbers is what got senior David Ryan onto the tennis team his sophomore year. He had been the league MVP at the Brentwood School his senior year, but he had never really considered playing tennis in college. In fact, he hadn't picked up a racket all freshman year. But one day the following fall, he and Eric McKean, a recruited tennis walk-on who was Ryan's best friend from high school, were hitting balls on a campus court when men's head coach John Whitlinger saw them and stopped to watch. When the coach started talking to McKean, '07, Ryan assumed he was telling his friend to stop playing against hacks.
Instead, Whitlinger, '76, who had noted that McKean's left-handed friend hit the ball a lot like former Stanford All-American K.J. Hippensteel, '02, asked Ryan what he thought about playing college tennis. Whitlinger was short a couple players, and he needed bodies. "I thought he was joking," says Ryan.
In his first two years Ryan was the No. 8 singles player, which meant he traveled with the team but rarely got to play in dual matches. This past year, with just nine guys on the roster because of injuries, he played in 11 dual matches, at Nos. 5 and 6. The highlight of his career came during a contest against Santa Clara. With the teams tied at 3, the outcome hinged on Ryan's singles match. After he won it in three sets, his teammates rushed the court and dogpiled him. "That was pretty unbelievable," says Ryan. "That's something I would have never thought I'd have the opportunity to do."
"It was a real 'Rudy' moment," says Whitlinger, referring to the 1993 movie of the same name. He adds that in his 21 years as a player and coach at Stanford, he had never seen a true walk-on clinch a match. "You never know how players are going to react when it comes down to that pressure moment, but Dave was cool as a cucumber."
Chris Bobel was decidedly not cool as he stepped to the line to take a one-and-one free throw during a career-high seven minutes of action against Denver last year. There wasn't much riding on it—the Cardinal was 40 points ahead at the time—except possibly his one chance to score a point in his college career. "I was terrified," he says.
Like Ryan, Bobel had arrived at Stanford with no intention of playing his sport at the varsity level. He had turned down Swarthmore to go to Stanford and do normal student things, like study computer science and join the rugby team. Midway through his freshman year, he started coaching the eighth-grade boys' basketball team at his former middle school, fueling a passion that soon overwhelmed his college life. When he became Paly's freshman coach as a junior, his school work and social life got shoved to the back burner. He started missing class so he could watch tape of the games he had coached. "I missed a whole bunch of stuff—classes, parties—and didn't care," he says. Deciding that his future was in coaching, he tried to get involved with the men's basketball team, in any capacity. After spending a few months doing data entry 10-15 hours a week, for no pay, he stopped out of school the spring of his senior year to work for the basketball team as a recruiting assistant.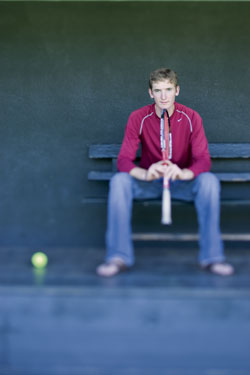 Glenn Matsumura
'RUDY MOMENT': Ryan, whom the coach spotted hitting balls on campus, clinched a match last spring.
Whenever the team needed extra guys for pickup games, Bobel would sprint down to the court to volunteer his services as a flypaper defender. "I really made a conscious effort to play as hard as I could every second, to be completely unselfish every second and show that my intensity, toughness and physical defense was an asset in getting the scholarship players better," he says. Word got out to the coaches that Bobel was an unflagging pest on defense, covering guys 94 feet every single possession in meaningless games.
That summer, Johnson asked Bobel, who still needed two courses to finish his degree, if he wanted to walk on. Bobel, who thought playing experience would be critical to getting a coaching job, leapt at the chance. "Every practice was my game," he says. He came early and stayed late. He took mental notes on the opponent and got nervous before every game, even ones he had little chance of appearing in. In the layup lines, he out-jumped everyone. "That's what I was supposed to do," he says. "I was expected to bring it, every warmup."
Anything he brought to a game was a bonus. Moments after checking in during the second half against Denver, Bobel was fouled. After a two-minute timeout to stew, he stood at the line, wracked with nerves, as the entire Stanford rooting section stood with him. As his shot bounced off the rim, he inwardly howled, not knowing if he would ever get another chance to score. "All I could think about was getting back to the line so I could redeem myself," he says.
Soon he was fouled again. This time he made both shots, the only two points of his Stanford career. As the crowd went wild and teammates Fred Washington, '07, and Peter Prowitt, '08, stood up with their hands in the air, Bobel smiled. He hadn't won the game, but he done two things almost as important. He had left his scoring mark, and he had given the crowd a vicarious thrill they wouldn't get from his extra-tall or extra-fast teammates. We all root for the walk-ons, says Southall, "because they are us."
---
KELLI ANDERSON, '84, is a senior writer at Sports Illustrated.