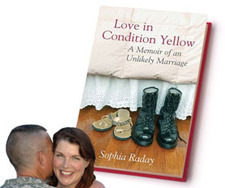 Love in Condition Yellow: A Memoir of an Unlikely Marriage, Sophia Raday, '87; Beacon Press, $23.95.
Raday, a Berkeley peacenik, was astonished to find herself falling for an Oakland policeman who was a major in the Army Reserve: Who knew two Californians could have such a red state/blue state courtship? Their marriage becomes a continuing test of tolerance when, in response to 9/11, husband and young father Barrett enrolls in the War College and then deploys to Iraq.
Jesus Was a Liberal: Reclaiming Christianity for All, Scotty McLennan;
Palgrave
Macmillan, $26.95.
Between the evangelical right and the atheist backlash stands liberal Christianity, according to McLennan, the Unitarian Universalist minister who is dean of religious life at Stanford. Whether outlining liberal religious perspectives on such hot-button topics as abortion, poverty, same-sex marriage and environmental destruction or proclaiming that "science is not the enemy but the companion and enabler" of faith, McLennan gracefully defends Christianity as progressive, rational and relevant.
Real Enemies: Conspiracy Theories and American Democracy, World War I to 9/11, Kathryn S. Olmsted, '64, MA '65; Oxford U. Press, $29.95.
Just as hypochondriacs die, paranoids have their reasons. Olmsted, a history professor at UC-Davis, investigates the tide of government distrust. (Polls indicate a third of our citizenry thinks the U.S. government knew about 9/11 in advance.) She writes, "To understand conspiracy theories, we need to examine the history of proven government conspiracies, because for all their seeming outlandishness, the successive generations of antigovernment conspiracy theorists since World War I have at least one thing in common: when they charge that the government has plotted, lied, and covered up, they're often right."
California Indians and Their Environments: An Introduction, Kent G. Lightfoot, '75, and Otis Parrish; U. of California Press, $19.95.
Those willing to don magnifying spectacles will appreciate the essays in this thick field guide to Native Californians and the animal, vegetable and mineral resources they used. Lightfoot, a UC-Berkeley anthropology professor, and Parrish, a member of the Kashaya Pomo tribe, introduce this wealth of material with fresh research findings about the natives' use of controlled fires to spur biological diversity—a land-management sophistication that distinguished them from other hunter-gatherers and from tribes that took up farming.
Four Jews on Parnassus: A Conversation, Carl Djerassi; Columbia U. Press, $29.50.
Playwright and emeritus professor of chemistry Djerassi imagines meetings, in the afterlife, of intellectuals Walter Benjamin, Theodor Adorno, Gershom Scholem and Arnold Schönberg. The four enjoy rarefied discussion about religion, reputation, music and the art of Paul Klee, and earthier talk about their sex lives and vices. (Their "accomplished and energetic" wives get a say as well.) The book includes illustrations by Gabriele Seethaler and a CD of compositions by Schönberg and others.
What I Wish I Knew When I Was 20: A Crash Course on Making Your Place in the World, Tina Seelig, PhD '85; HarperOne, $22.99.
Seelig, the executive director of the Stanford Technology Ventures Program, packs a lot of entrepreneurial advice into a guidebook for those ready to move from undergraduate life to the professional world. Flexibility, openness, good manners, and an ability to embrace failure (while course-correcting, of course) are strategies she illustrates, often with Stanford-centric examples.
'Scratch a writer of snark, and you find a media-age conformist and an aesthetic nonentity.'
—
David Denby, MA '69, in Snark: It's Mean, It's Personal, and It's Ruining Our Conversation;
Simon & Schuster, $15.95