Underwire Under Fire
Frankly Apparel founders Jane Dong and Heather Eaton, both MBA '20, fell into friendship easily. "We sometimes joke that going through the GSB was like intense therapy in some ways," says Dong. "We were always talking about our feelings."
Eaton says she gravitated toward her three garments that she could wear without a bra. But similar pieces that fit well were hard to find; few seemed designed for larger cup sizes. So she enlisted Dong's help to develop a size-inclusive line of "braless" clothing. Initially funded through Kickstarter, Frankly Apparel now boasts a strong following on TikTok. "What Spanx did for shapewear or what Lululemon did for athleisure," says Eaton, "we want Frankly to be that for braless clothing."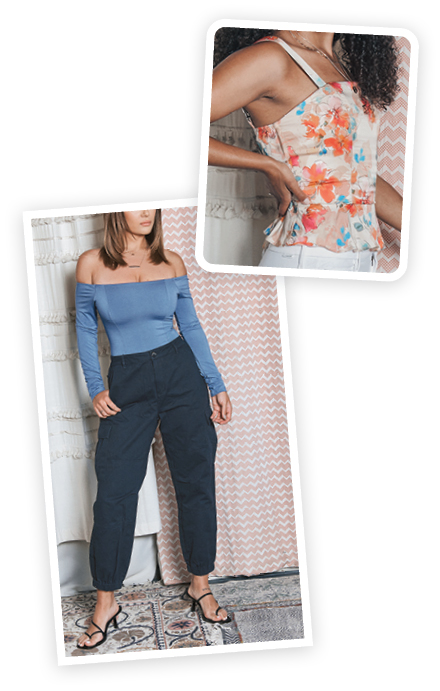 Photos: Kimberly Tran/Frankly Apparel (3)
---
Vivid Vision
There's nothing quiet about Oddli, the brainchild of Ellie Chen and Jensen Neff, both '20. Muted hues might fit "the larger narrative of how people think about climate change," says Chen, but she and Neff prefer to see sustainability in living color. Every item Oddli offers, whether bucket hat, halter top or pocket dress, is made from deadstock, the fashion industry's surplus fabric, most of which would otherwise be destined for the landfill. 
Chen and Neff, who met during New Student Orientation, share interests in nature, fashion and playfulness. And their skills, says Neff, "are an exact Venn diagram." After graduation, the two friends moved to Los Angeles, intent on building, says Chen, "the next big sustainable fashion brand centered around colorfulness and creativity."
Photos: Bradly Virshup/Oddli (top); Sara Lemieux/Oddli (2)
---
Second Lives
Lavanya Mahadevan, '20, remembers her first impression of Hencye Sights, '19: He was a sharp dresser. The two connected at Stanford over a love of post–World War II apparel; they admired its timeless style, its sturdy construction. Selling vintage clothing felt like a natural fit for the two friends.
Their fledgling company, Postwar Vintage, displays its goods at Blue Bin Vintage, a Palo Alto co-op. Mahadevan and Sights hunt for intriguing pieces wherever they go, reveling in, as Sights says, "finding something, appreciating it and passing it on." Once Postwar Vintage opens a storefront, its founders plan to continue offering a wide range of goods with a history—and to honor the stories behind what they sell.
Photos: Postwar Vintage (3)
---
Valerie Trapp, '22, is a former editorial intern at Stanford. Email her at stanford.magazine@stanford.edu.