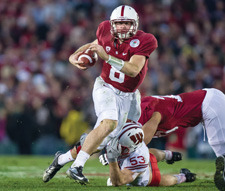 Not many quarterbacks play their second game against the No. 2 team in the country. But last November at Oregon's rowdy Autzen Stadium—and before a national television audience—Kevin Hogan lofted a fourth-quarter pass into the corner of the end zone for a touchdown, sending the duel into overtime. The Cardinal went on to win 17-14 and secure the inside track to the Rose Bowl.
With that victory, Hogan became more than just a replacement QB: He was a player to watch. After seeing the redshirt freshman modestly deflect praise about his performance, former Stanford wide receiver Chris Owusu, '11, tweeted Hogan: "Don't be afraid to give us a little smile in your interviews, big guy!"
Hogan wrote back: "Maybe in 3 games! All business until then, though."
That composure was evident again when Hogan sat down to chat recently. Asked whether taking over as quarterback in the middle of last season was nerve-wracking, he looks amused. "That was just fun."
OK, but what about now, after leading Stanford to its first Rose Bowl victory since 1972? Isn't he at all affected by heightened expectations as he quarterbacks a team ranked as high as No. 2 in preseason rankings? Hogan's expression becomes more serious. "Other people bring that [pressure] upon themselves," he replies. "You can't think like that."
The challenge isn't confined to the field. Hogan, '15, admits that juggling sports and a world-class education overwhelmed him as a freshman. "You've got to learn how to balance everything. There's no other choice," he explains.
He is majoring in science, technology & society, with a corresponding course load focused on information technology, media and society that suits his diverse academic interests. He cites Judgment and Decision Making, a course that "explores theories and research on heuristics and biases in human inference," as his favorite classroom experience.
Hogan brings that same intellectual rigor to his sport. His freshman roommate, David Abrams, '15, recalls spending a significant amount of time that year reviewing plays and formations in their dorm room. "We'd be sitting on our beds and I'd start quizzing: 'For this play, what defensive formation will cause an audible? What route is the tight end running?' He said he needed a better understanding of the playbook," says Abrams.
The truth is, the learning never stops. Hogan notes that teammates occasionally quiz each other before their early morning runs. He chuckles. "Football players talking math before 7 a.m. . . ."
He is about to encounter a few new lessons in what it means to be The Guy. And for that, there is no playbook.
---
Dania Marinshaw, '14, is a Stanford intern.