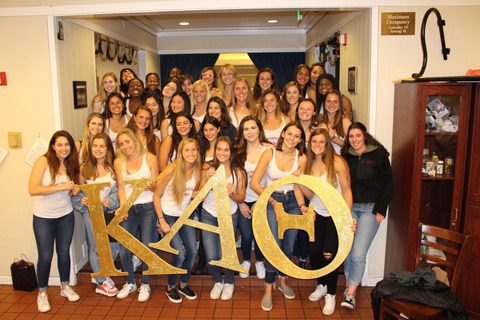 Spring quarter at Stanford starts with the frenzy of fraternity rush. And sorority recruitment comes close on its heels with a four-day affair that, this year, began with open houses on Friday, April 13, and closed with bid day the following Monday.
Interest in sororities on campus has been rising over the past decade. Last year, 308 women joined an Inter-Sorority Council (ISC) chapter at Stanford, up from the 138 who matched in 2007, according to Amanda Rodriguez, director of fraternity and sorority life. To keep pace with the increase in demand, the ISC added Alpha Epsilon Phi in 2007 (which folded last fall), reactivated Alpha Phi in 2011 and recognized Alpha Chi Omega in 2017.
Students participate in recruitment at Kappa Kappa Gamma this April. Photo: Courtesy Tashrima Hossain
So, why the uptick in interest? "We know that our students are looking for connection," Rodriguez says. "Students want to have solid friendships [and belong] to something bigger than themselves."
In recent years, the ISC has focused its efforts on diversity and on making Greek life more accessible to people from underrepresented socioeconomic and ethnic communities.
Cha Cha Pillai, a junior, found her niche in Delta Delta Delta. "My Indian identity was reflected within this community, and also the things I care about — like sexual health, education, feminism." Whether it's through sororities, clubs or other school organizations, Pillai says, ultimately people "are searching for community."
Tashrima Hossain, a junior class co-president, says she joined Kappa Kappa Gamma as a way to meet people outside her dorm. "Stanford is such a wonderful place. I think some people have the tendency to want to take advantage of that as much as possible because we have a finite amount of time on campus."