As an undergraduate, David Lang once staged an avant-garde work by American composer Lamont Young that required the performer to "feed" the piano with a bale of hay. The result: Lang, '78, was banned from performing onstage at Stanford.
Now 54, the New York-based composer has spent a lifetime challenging the rules and institutions of contemporary classical music, finding success on his own terms. A faculty member at Yale University and Oberlin College, Lang reached the pinnacle of establishment cred when he received the 2008 Pulitzer Prize for Music for The Little Match Girl Passion. (A recording of it won a 2010 Grammy.) His music is performed around the world, and his onetime insurgent organization, Bang on a Can, has grown since 1987 from an annual music festival for non-establishment composers to a valued American musical institution.
Often drawing on the mesmerizing, repetitive structures of early minimalism that first enthralled him as a teenager, he's also renowned for incorporating more dissonant sounds and influences from rock and other pop music. But for Lang, his music's sound is secondary to the conceptual goals it depends upon, and his resolute refusal to be pinned down to a single style makes his catalog one of the most diverse in modern music.
In his ambitious 2001 work Child, for example, lyrical string melodies and susurrations created by performers swirling metal rods inside tuned brake drums are periodically punctuated—WHAM!—by mallets slammed into drums at full force. Though recognizably minimalist at its source, the hushed, gentle medieval choral harmonies of Match Girl, a work for four voices, seem worlds away from his brash earlier compositions. Yet modernist disquiet lurks beneath its spare surface simplicity, and plenty of iconoclasm snarls —or winks—through other recent efforts.
"His music offers a way in for listeners who might be interested in classical music, whatever that means these days, but don't know where to start," says John Schaefer, who hosts WNYC's New Sounds radio show. "If you're a rock fan, whether you're into Jimi Hendrix or Brian Eno, Lang's music has something you can hang onto. He can [also] write subtle, quietly emotional scores whose power creeps up on you. He writes a lot of earthy, fun, witty music, and he's not afraid to let you know right off the bat, even from reading the title, that this is not your parents' classical music."
This season alone has seen Lang's music performed in Bruges, Austin, Boston, London, at the Kennedy Center and in many other cities, including the Bang on a Can All-Stars performance in Stanford's Lively Arts Series. His music features in several new dance works, including one with the New York City Ballet. And he scored the acclaimed 2010 documentary film The Woodmans. His current projects look just as eclectic: Lang's new composition for the vocal trio Mediaeval and the Norwegian Radio Orchestra premieres in Oslo in October, and he is rewriting Beethoven's opera Fidelio for a U.K. debut in 2013.
The iconoclast has prevailed.
Lang cheerfully admits that his youthful rebellious attitude contributed to the friction he experienced with Stanford's music department. "I'd been writing music since I was 9 years old, and I thought I knew everything. I thought I should be able to do anything I wanted and shockingly discovered that I couldn't." Drawn to music since a childhood encounter with one of Leonard Bernstein's TV broadcasts, Lang also preferred the music department's afternoon class schedule to the 8 a.m. labs required of chemistry students. Switching his major, he played in the orchestra, marching band and wind ensemble and wrote "a huge amount of music" (including one piece requiring the audience to pop bubble wrap). He helped found a performance group dedicated to the conceptual works of New York's Fluxus group, which staged "happenings" like the one that got Lang booted from Dinkelspiel Auditorium.
"I looked at my rebellion from the music department as being a sign that I should throw myself in with everything that was rebellious," Lang recalls. "If it was somehow alternative to what I was supposed to know, then I was interested in it."
Lang's spirit of artistic adventure formed in his freshman year when he studied with the maverick composer Lou Harrison, a visiting professor. "He was connected with this glorious tradition of American experimental music," Lang explains, "and he inspired me to realize that being a composer allowed you the opportunity to think about everything in the world."
Lang found another source of inspiration: his fellow students. "I met a lot of incredibly smart people there who went on to have a huge effect on me." Carey Perloff, '80, now artistic director at San Francisco's American Conservatory Theater, staged several earlier productions in New York to which Lang contributed music. "He was this funny combination of nerdy and hip, unbelievably together and at the same time a bad boy, but always a great friend," she recalls. "He was always exhausted and carrying a coffee cup because he was a total insomniac."
The University's science orientation provided a useful crucible for Lang's ambitions. "Having to figure out how to justify being someone in the arts in that environment made me smarter, tougher and a better collaborator with other people from other disciplines," he says. "That's what I got out of Stanford: long lasting, powerful and meaningful friendships that became deep artistic and intellectual relationships."
Lang followed another temporary Stanford faculty member, composer Donald Martin Jenni, to Iowa for a master's degree. "Jenni's deep knowledge of the music and the history behind the music was mindblowingly persuasive," Lang wrote in a tribute.
In 1981 Lang commenced doctoral studies at Yale, where his mentor, composer Jacob Druckman, taught him a valuable lesson. "I don't want to talk about music," Druckman said in their first meeting, after seeing Lang behaving in a "snotty" way during an audition. "I want to tell you what an asshole you are." Lang learned that however aggressive his sounds might be, if he wanted others to play his music, he needed to behave in a more community-minded way.
Today, when Lang works with musicians and students, he's affable, frequently joking at his own expense while gently encouraging them to reach higher. Married to a visual artist (and a father of three), he collaborates with other artists—Perloff's ACT, a Montreal ballet company and filmmakers—as often as possible.
When Lang moved to New York in the early 1980s, he and composers Michael Gordon and Julia Wolfe often lamented the marginalization of composers in contemporary culture. Dissatisfied with conservative orchestral and academic institutions, and drawing on DIY predecessors like Harrison and his partner John Cage (who together formed the first composer-led percussion ensembles in 1930s San Francisco), they created a festival that would provide a performing, and later recording, outlet for contemporary composers.
Bang on a Can "helped create this amazing hybrid chamber-rock scene," Schaefer says. "Young musicians in both the classical and indie rock worlds have grown up in a post-BOAC world where working together isn't considered weird or artsy—it's just a natural way to reach out to a wider group of listeners."
BOAC's summer institute has produced composers such as Judd Greenstein, who founded the ambitious New Amsterdam record label, and David Longstreth of the rock band Dirty Projectors. Students learn how to write grant proposals, set up a record label, produce a concert, start a nonprofit organization, write a contract—to thrive "as a composer in the world."
"Bang on a Can was hugely influential to my generation of composers," says Missy Mazzoli, who studied with Lang at the summer institute and at Yale and went on to produce concerts and the first record of her band, Victoire. "David was the first comp teacher to talk to me about what the audience is experiencing." He also challenged her to stick with promising ideas and sometimes to try doing the opposite of her natural or traditional inclinations. She's now one of America's most promising young composers.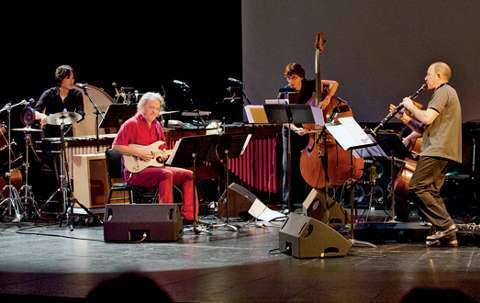 ON CAMPUS: Bang on a Can All-Stars performed at Stanford last November. (Photo: Linda A. Cicero)
Working with students brings Lang his greatest satisfaction. "I want to introduce them to the joys and wonders of being open," he says. "I feel like I'm building the world I want to live in, and young composers and musicians are a big part of that."
Recently, a young composer introduced herself as one of Mazzoli's students. "That filled me with so much joy," Lang says. "She was Missy's student and Missy was my student, and I was [composer Hans Werner] Henze's student and Stravinsky was his teacher, and Rimsky-Korsakov was Stravinsky's and on down the line. Now Missy's passing that on. And I thought, 'Maybe this is all gonna work out.'"
---
Brett Campbell, based in Portland, Ore., writes about performance arts for The Wall Street Journal and other publications.