Commencement was crowded: 5,089 graduates from the Class of 2022 clustered shoulder to shoulder outside Stanford Stadium on Sunday, June 12, awaiting a much-anticipated fully in-person ceremony. Just a day earlier, the walkways were packed with some 2,600 alumni from the Class of 2020. They'd returned to their alma mater to don the caps and gowns they'd lacked when they graduated virtually. The unprecedented back-to-back celebrations honored two classes connected by the chaos and isolation of the pandemic.
'With one foot in the future and one in the past, you can think of today as your graduation ceremony and your first reunion as Stanford alumni.'
On Saturday, the Class of 2020 heard from France Córdova, '69, who, in the mid-1990s, became the youngest person and first woman to serve as NASA's chief scientist. Córdova, an English major turned astrophysicist turned leader of universities, encouraged students to "vector into the unknown," as she had. "Real life is not somewhere else; it's inside of you," she said.
'Take time every day to examine different beliefs, and stay skeptical.'
On Sunday, Netflix co-founder Reed Hastings, MS '88—speaking remotely on-screen after having tested positive for COVID-19—advised the Class of 2022 to harness the powers of invention and story to address challenges such as climate change and inequality. "As the world speeds up, will our wax wings melt? Or will we bend the arc of the moral universe toward justice?" he asked.
President Marc Tessier-Lavigne readied the Class of 2022 undergraduates, as he had at their convocation four long years ago, for many more twists, turns and departures. Their time at Stanford, he said, would provide them "a foundation for a life of change and transformation."
Photo: David Gonzales, '93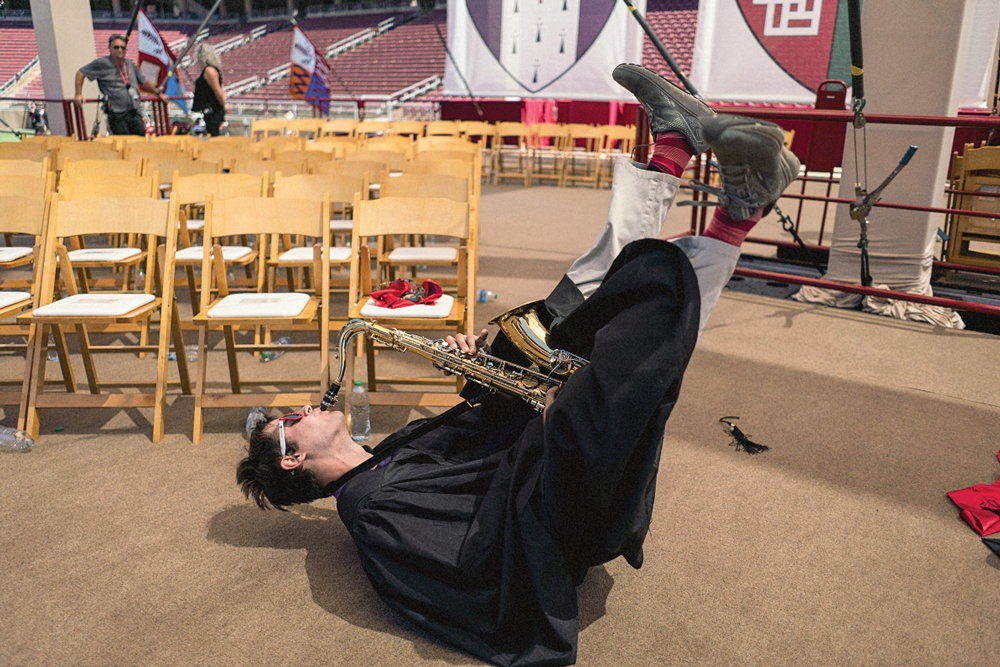 Photo: Don Feria/Stanford University
Photo: Victor Madrigal, '94 
Photo: Don Feria/Stanford University
Photo: David Gonzales, '93
---
The Class of 2022, by the Numbers:
1,594
undergraduate degrees
2,371
master's degrees
1,124
doctoral degrees
---
Kali Shiloh is a staff writer at Stanford. Email her at kshiloh@stanford.edu.