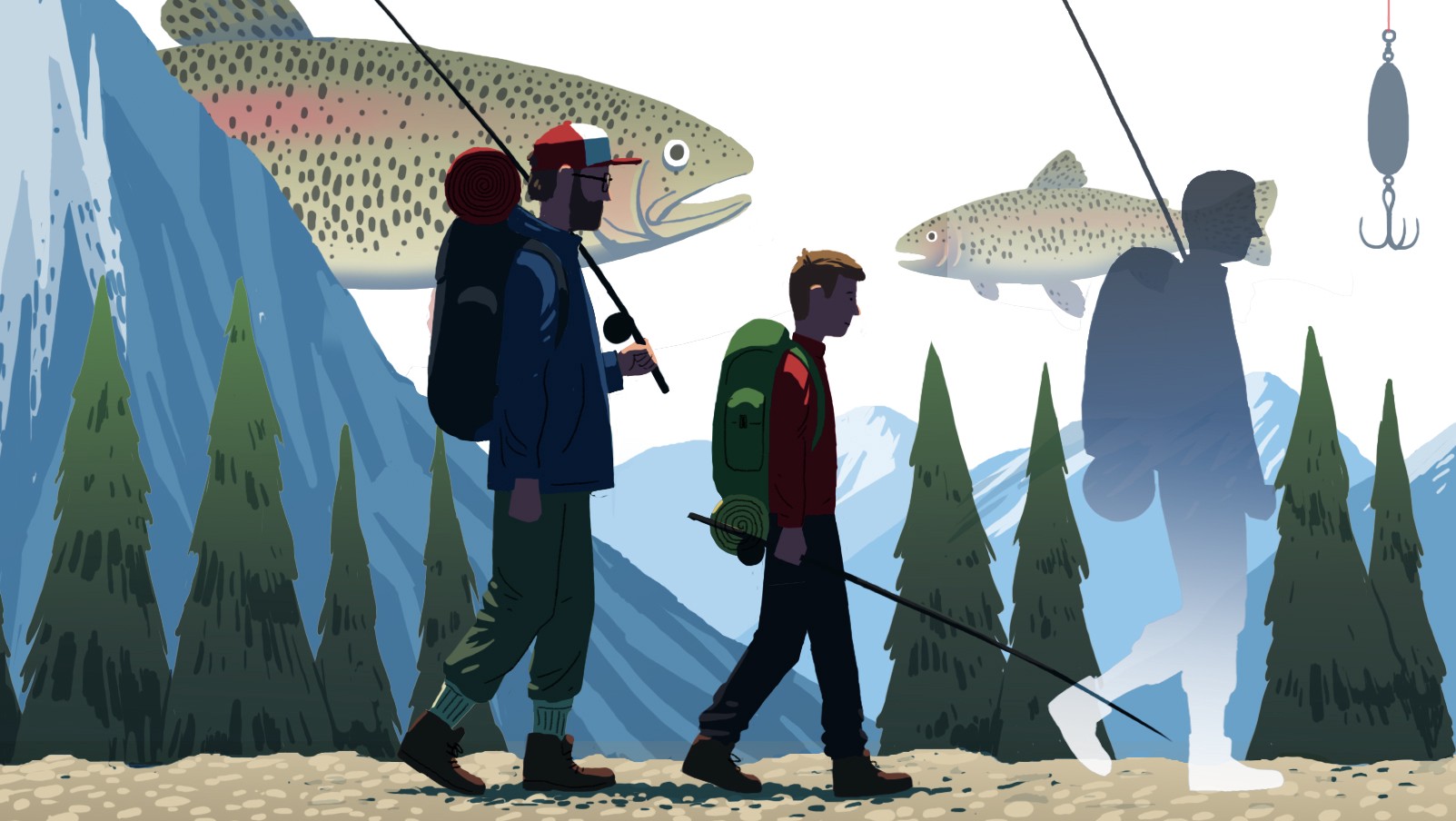 Keep the pole high! Don't let the line go slack! OK, now reel him in — don't let him get away!"
I am 12 years old, fishing with my father at Little Heart Lake, our favorite backpacking spot. A rainbow trout thrashes at the other end of my line, and he's coaching me on how to land it.
My dad, Paul Hirning, was an avid fisherman. I was 6 when he taught me how to fish for trout in the lakes near our Seattle home. I learned how to tie my line, bait the hook, feel the trembling bite of the fish. And when I was 10, he introduced me to backpacking in the Cascades.
One of my favorite books, Norman Maclean's A River Runs Through It, centers around adventures the author had with his father and younger brother as they fished for trout in Montana a century ago. It's a reflection on fathers and sons, and brothers — the ways in which they connect, and the ways they cannot.
I was close with my father while I was growing up, but looking back, I see that I didn't fully understand who he really was. As Maclean writes, "It is those we live with and love and should know who elude us."
In the story, the one who remains the most unknowable is the narrator's free-spirited younger brother, Paul, who drifts away from the family and into drinking and gambling. Paul ends up dying young, leaving his family to grapple with pain and loss.
I kept the pole high and reeled it in, just as I'd been taught, tears streaming down my face.
My family, too, would experience the ultimate loss, when my dad slipped off a mountain trail in 1996 and fell to his death. He was on a hike with my brother, spending precious time with his younger son in the environment he loved most. Amid my grief, I took some comfort in that thought. I still do.
Almost exactly a year after my father's accident, my son, Nicholas Paul, was born. When he was old enough, I took him to Little Heart Lake. I told him about the grandfather he had never met. And I taught him how to bait a hook and cast his line, as Maclean writes, in "the hope that a fish will rise."
We returned to the mountains nearly every summer, until it was Nick's turn to head off to Stanford. How proud my father would have been to see the family legacy continue.
Last summer, Nick was busy with an internship, but the mountains still called to me. On the first night of my trip, I settled in on the lakeshore with my childhood fishing pole. After a few casts, I felt a fish strike the bait hard. I kept the pole high and reeled it in, just as I'd been taught, tears streaming down my face. I sensed Dad's presence.
Toward the end of Maclean's story, the men Paul left behind ponder his life and untimely death, still struggling to understand him.
"If you push me far enough," Paul's brother said, "all I really know is that he was a fine fisherman."
"You know more than that," their elderly father replied. "He was beautiful."
---
David Hirning, '91, is a writer and an editor who lives in Seattle.