Hype or hope?
The headlines about psychedelic drugs are everywhere. As mental health crises swell across the United States, the public is clamoring for a revolution in psychiatric medicine, and governments are inching ahead of research. Early studies show promise, but there is much to be determined about how to responsibly deliver these drugs outside of labs. If they are to become standard U.S. medical treatment, researchers will need to show the federal government that they are safe and effective—before inadequately guided use drives psychedelics back underground. In Stanford magazine, university scientists scope the promise and pitfalls of using drugs such as psilocybin and MDMA (aka magic mushrooms and Ecstasy) to treat disorders from depression to PTSD.
---
"And it came to pass that a man was troubled by a peanut butter sandwich."
Yes, ChatGPT did write the viral biblical verse about a sandwich stuck in a VCR, but it can do much more than that. Even if you haven't (yet) knowingly used AI communication, you've likely been influenced by it. For starters: the suggested reply text your email client offers. Even if you don't opt to use its recommendations ("That's great!" or "Sorry, I can't"), researchers have found that those prompts influence you to write a more succinct—and positive—response. It's just one example of how AI technology is transforming interpersonal relationships, said communication professor Jeffrey Hancock in Stanford Report. He believes we'll find ways of using AI-mediated communication as a tool, but that bots and humans alike need more prep work. "ChatGPT is being used by millions of people," he said, "many of whom don't have any training or education about when it is ethical to use these systems or how to ensure that they are not causing harm." Among the areas of concern for Hancock and his colleagues are misinformation and the possibility of developing novel tactics for large-scale persuasion.

One partial remedy could be DetectGPT, a tool Eric Mitchell, a PhD student in computer science, hopes can act as a guardrail to let people know when they are reading text generated by a large language model (LLM). Mitchell and his colleagues tested DetectGPT on five open-source LLMs and found that it accurately identified authorship 95 percent of the time. And when humans altered LLM-generated text to get around detection (because of course they tried), the system still did a pretty good job of spotting machine-generated text when less than 15 percent of the words had been modified. So the next time you see a biblical verse that ends with "and from that day forth, he kept his sandwiches in their proper place, and was saved from trouble and woe. Amen," you can verify your suspicion that it didn't come from the King James Version.
---
The man behind the sign.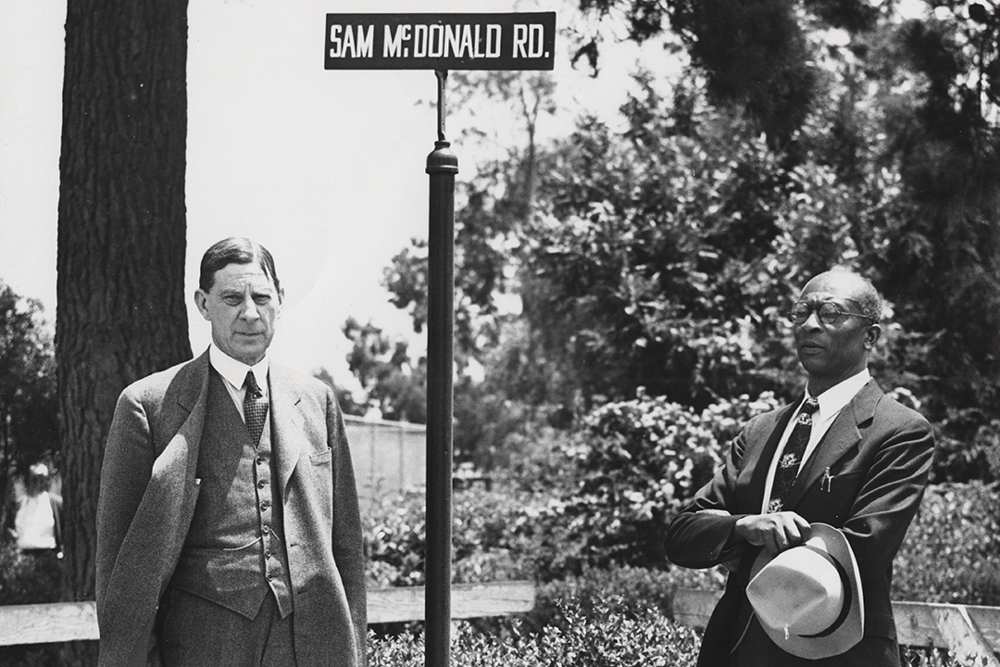 Photo: Courtesy Stanford University Archives
Sam McDonald, right, was a Stanford institution. But most alums alive today have never heard of him. He was a part of campus for more than 50 years—long enough to greet Jane Stanford herself, work under five university presidents (including Ray Lyman Wilbur, Class of 1896, MA '97, MD '99, left), and become integral to Farm life and lore. He was a friend, correspondent, and occasional Cupid to generations of Stanford students; host and chef of countless campus barbecues; and committed benefactor of the Stanford Home for Convalescent Children. And he was the first Black man to hold an administrative post at Stanford, maybe even at any American university outside of historically Black institutions.
---
The flying frosh.
It was a classic coming-of-age story: Teen takes gap year before college; decides to circumnavigate the globe alone in a small plane; applies to Stanford while stranded in Nome, Alaska; returns home with a Guinness World Record and an acceptance to the Farm. OK, it may not be a typical tale, but Zara Rutherford, '26, hopes her journey makes female pilots less of a rarity. "I struggled with a lack of female role models in aviation," she told Stanford Report, "so here was my chance to be a friendly face for other girls interested in flying." Her 32,300-mile trip took five months and included stops in 52 countries. She made a detour around North Korea, had a long layover in a rural Russian village, and fixed a flat tire in Singapore. It was during her stop in the Philippines that she received her acceptance letter to Stanford. Zara is interested in computer science, engineering, and aeronautics and astronautics, and while she hasn't yet decided on a career, she says she's confident she landed at the right school.
---
How long will the war in Ukraine go on?
One year after Russia's invasion of Ukraine, Steven Pifer, '76, a former U.S. ambassador to Ukraine and an affiliate at Stanford's Center for International Security and Cooperation, told Stanford Report that he believes the Ukrainian military is capable of liberating more territory, but "driving the Russians completely out of Ukraine will pose a stiff challenge, especially as the Russian army has prepared defensive positions." He adds that the American intelligence community has assessed that the likeliest course is a war of attrition that drags on for months to years. But the West's willingness to provide assistance for the long haul may not serve Ukraine's desires. Professor of political science and director of the Freeman Spogli Institute for International Studies Michael McFaul, '86, MA '86, told MSNBC that President Biden's recent trip to Kyiv was "a brilliant move" that could provide inspiration to the people of Ukraine and give President Zelenskyy the chance to make a case to Biden to provide more assistance quickly. "[Ukrainians] want a short war," the former U.S. ambassador to Russia said. "They want weapons to launch their counteroffensive now."

Meanwhile, the need for care goes on. Medical student Sol Savchuk—who was born and raised in Ukraine—has spent the past year running Telehelp Ukraine, which pairs U.S. doctors and providers with patients on the ground in Ukraine for telehealth services. The group includes nearly 200 providers and other volunteers, and has conducted 500 appointments in specialties ranging from endocrinology to mental health.
---
But wait, there's more.
After making history as the first female mayor of San Francisco and one of the first two female senators in California, Sen. Dianne Feinstein, '55, announced this month that she will not seek reelection in 2024. With three decades on the Hill, she is the longest-serving woman in the upper chamber. "She represents an epoch in the Senate," Sen. Cory Booker, '91, MA '92, told Stanford in 2017. "There will be a huge vacuum when she leaves."

Paul Berg, an emeritus professor of biochemistry who won the 1980 Nobel Prize in chemistry for helping create the first recombinant DNA molecule, has died. He co-founded the School of Medicine's biochemistry department in 1959 and is credited with sparking the field of genetic engineering. "He was never looking to be famous; he was never looking to win the Nobel Prize," said his son, John. "He just did what he did because he loved it."

Stanford will increase student financial aid so that undergraduate families with annual incomes below $100,000 will not have to pay tuition, room, or board beginning in the 2023–24 academic year. Previously, families with incomes under $75,000 qualified. For others, tuition, room, and board will increase by 7 percent, which administrators said will support inflation-driven cost increases. However, Stanford's aid program will take the increase into account for families receiving financial aid.

Stanford men's basketball has two new guards, although the seniors won't need introductions to their teammates. The walk-ons were student managers with slim chances of making the team, but Coach Jerod Haase told the Stanford Daily their consistency and dedication helped them score their spots on the roster.

When oil spills wreaked havoc on the coastlines of their hometowns half a world apart, former doctoral classmates Josheena Naggea, PhD '22, of Mauritius and Rebecca Miller, PhD '21, of Huntington Beach, Calif., compared disaster relief responses in hopes of informing contingency plans that reinforce social-ecological resilience in coastal communities.

Male sperm counts and testosterone levels have been declining for decades, and yet when researchers took a long, hard look at the data from 75 studies, they found that over the past 29 years, the average erect penile length has increased by 24 percent worldwide—from 4.8 inches to 6 inches. The results suggest powerful changes happening in the human body, though more research is needed to confirm the findings and explain the rising numbers.

Which prime minister has better perks? Stanford compared the fringe benefits of the offices held by Great Britain's Rishi Sunak, MBA '06, and Greece's Kyriakos Mitsotakis, MA '93.
---
Note: The Loop sometimes links to articles outside of Stanford that may require a subscription to view.