Courtesy Groupama
Claude Breton
MASTER MARINER
U.S. Sailing named Stan Honey, MS '83, its Rolex Yachtsman of the Year for 2010 for his role as navigator (and the only American) aboard the Groupama 3. The French trimaran won the Trophée Jules Verne in March 2010 for sailing around the world in 48 days, seven hours and 45 minutes—more than two days faster than the previous record. One member of the award's selection panel praised Honey as "one of the most outstanding offshore sailors known worldwide."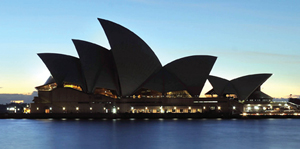 Jack Atley
THANKS, MOM
Classical violinist Leyan Lo, MS '10, was among 101 musicians from around the world selected to perform at the Sydney Opera House in March as part of the 2011 YouTube Symphony Orchestra. The video-sharing website, owned by Google, received more than 1,000 audition submissions for the collaborative online orchestra's second movement. (The first YouTube Symphony Orchestra performed at Carnegie Hall in 2009.) In his video, Lo, who starting playing violin at age 4, thanked his mother for forcing him to take lessons: "I'm so glad she did because now I get to go to Sydney."
JUST FOR KICKS
Cathy Kozachenko
The "Cardinal Grays," a team of alumni and friends from across the country, gathered in Honolulu in January to compete in the Mayor's Gold Cup, an international 50-plus soccer tournament. In the front row, from left to right: Dan McNevin, '81, Bob Bonaparte, '77, Alex Kline, '80, Steve Arnold, '77, John Murao, '76. In the back row, from left to right: Phil Golden, '81, Paul Kozachenko, '79, Greg Delgado, '80, Larry Geisse, '73, Pete Sherwood, '73, and Laird Cagan, '80. They were joined by Kathy Carey, '79 (not pictured), assistant coach of the University of Hawaii women's soccer team—the only female player in the tournament—and Hunter Stern (fourth from left in back row), a former assistant coach for the Stanford men's soccer team.
Pablo Martinez Monsivais/
AP Images
"My role in this issue was to demonstrate a track record of what it means to serve openly, demonstrate that it didn't impact my unit's ability to do its job and that I got along well with my shipmates."
—Retired Navy commander Zoe Dunning, MBA '93, was for years the only openly gay U.S. service member. She stood beside President Obama as he signed the repeal of Don't Ask, Don't Tell in December.