Long-Lasting Bonds
Jean Williams De Nault's grandfather Orrin Leslie Elliott was Stanford's first registrar and assistant to President David Starr Jordan. In 1892, her mother became the first child born on campus. The family lived on Santa Ynez Street, across from the Hoovers, and it was in the gardens of that home—where Jean spent "many, many summers"—that high school sweethearts Jean and John De Nault, both '41, were married after graduation. John served in the Navy, and they raised a family in Los Angeles, where he became chairman of the board at 20th Century Insurance. Now 97, John and Jean celebrated their 75th anniversary in June. 
Both are still at the wheel (Jean's license, she says, is valid until she's 101) and driving between their homes in Los Angeles and Boulder Creek, where they spend the majority of their time. John explores the Santa Cruz Mountains in his tractor and backhoe, and has built a small, fully functioning steam railroad in their yard; Jean golfs and maintains her collection of Stanford memorabilia. One rare artifact: a box of mosaic tiles jolted from the wall of Memorial Church during the 1906 earthquake and gathered from the ground by Jean's mother and uncle. Jean's family was "so much a part of Stanford at the beginning," she says, and she and John keep that connection strong—they make it to every home football game and already have their tickets for the home opener. "We're in great shape, have each other and love each other," Jean says. "It's been a wonderful, wonderful life."
Up the (Retail) Chain
What can you do with a bachelor's in English from Stanford? Jeff Gennette's answer was to forge a career as a retail executive, leading to his recent designation as Macy's next chief executive. Gennette, '83, interviewed with Macy's on campus when he was graduating—"They had the shortest line," he recalls—and he was hired as an executive trainee. He briefly departed the company at an early juncture, but returned on a path of steady advancement, becoming chief merchandising officer in 2009. Company president since 2014, he will assume the CEO role next year, accepting the pressures and scrutiny of running the chain in an era of revolutionary online competition. "Where Stanford prepared me," says Gennette, "was in critical thinking, and the ability to manage strategy and communication." The Wall Street Journal paid almost as much attention to Gennette's Scrabble expertise as to his sales instincts in its reporting on the CEO announcement, zestfully depicting someone who does not live by business alone. "People who do well in retail," he notes, "have as much emotional intelligence as IQ."
New York News
What else can you do with a Stanford degree in English? Be the New York bureau chief for Variety. Earlier this year, it promoted former Stanford intern Ramin Setoodeh, '04, to the magazine's newly created role and charged him with expanding long-form features and breaking news coverage on the movie, television, digital and theater businesses. In a statement, Claudia Eller, Variety's co-editor in chief, said Setoodeh's "smart, insightful business coverage has contributed mightily to the resurgence of Variety as the industry's leading news source on all things entertainment." He penned 23 cover stories in his first two years there, including profiles of Cate Blanchett, Leonardo DiCaprio, Bill Murray, Barbara Walters, Eddie Redmayne, Megyn Kelly and Sylvester Stallone. At Stanford, Setoodeh wrote for Intermission, the arts and entertainment guide, and served as editor in chief of the Daily for the '03-'04 volume. In February he signed a book deal to chronicle the story of the talk show The View.
The Lemonade Stand: This Is Not Kid Stuff

Seun, left, and Seyj. (Photo: Courtesy Seyi Abolaji)
When Seyi Abolaji, '05, returned to Nigeria in 2007, it was supposed to be a two-week vacation. He'd recently left his spot on the Seattle Sounders soccer team, had lined up "a 9-to-5, a real job" back in Chicago and just wanted to spend a little time in his birthplace to see what had changed in the decade since he'd last visited. 
Instead, he had an epiphany: "There are so many opportunities here," he says. "I didn't think I could make as much impact in the U.S." A year later, he took a one-way flight to Ota, on the outskirts of Lagos. He first tried his hand in the palm kernel industry, but soon decided to open a fresh-squeezed juice stand instead. He convinced nearby Covenant University to let him operate it on campus. Then one day, he was buying fruit at a market when he saw someone selling lemons. "It crossed my mind—Wow! I hadn't had lemonade since I'd been in Nigeria."
The juice stand quickly became a lemonade stand. By 2013, it had exploded into Wilson's, a national lemonade bottling company. Abolaji and his brother, Seun, run the business, which makes the first certified not-from-concentrate juice in Nigeria. Wilson's lemonade now distributes to 18 of Nigeria's 36 states and employs a workforce that's 80 percent female, from line workers to the factory director. "Things are bad enough to keep a lot of good people away," says Abolaji about his country's economic and political instability, but he adds: "We're impacting lives." 
Go Learn! Using Games to Teach Science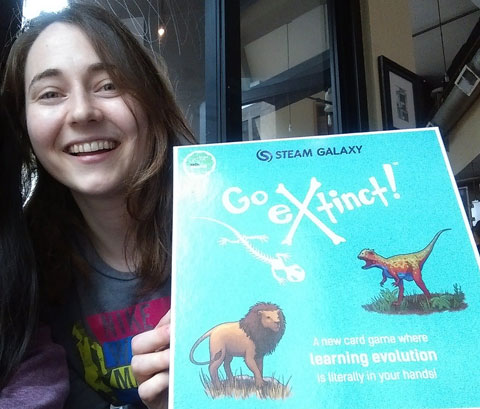 Photo: Courtesy Ariel Marcy
Ariel Marcy, '11, made her first educational game at Stanford, as a course associate for an introductory human biology class. Dubbed Cancer Avenger, the web-based game taught the details of cell cycle control and communication and its uses in fighting cancer. Her next inspiration came a couple years later, when she realized that the intricacies of evolutionary family trees couldn't be explained well in a textbook. The result, based on the classic card game Go Fish, was Go Extinct! in which players collect color-coded cards of related animals and learn, ultimately, that many different species share a common ancestor. For her ingenuity, she won the 2016 Thomas Henry Huxley Award, given by the Society for the Study of Evolution to early- and mid-career scientists for achievement in outreach and education. Successfully funded on Kickstarter, Go Extinct! is already in its second printing and inspired the founding of STEAM Galaxy Studios, Marcy's educational game design company. "Mammals learn through play," Marcy explains, "so it makes sense that we would learn well through games." 
Now a doctoral student at the University of Queensland in Brisbane, Australia, Marcy also has her own research on Australian rodents to attend to, and she might just make a game out of that too. "Before I got here, my main thing was: How can science be communicated? How can it make a compelling game system?" she says. "Now I'm starting to think about it the other way. How can games help me do science?"