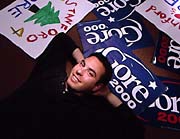 For political junkie Steven Aronowitz, it promises to be the party of a lifetime -- and he can't believe he's invited. In August, Aronowitz, '00, will join 495 other delegates from around the country at the Democratic National Convention in Los Angeles for a long weekend of speeches, platform tinkering and balloons. He can't wait.
Winning a spot on a national convention floor is beyond most students' reach. Delegates -- typically chosen at state caucuses by political activists -- tend to be well-connected party members in their 50s and 60s who are selected as a reward for decades of service. Not only is Aronowitz the youngest delegate from his Roseville, Calif., district -- he also got the most votes. "People are excited to see young people getting involved," says Aronowitz, who campaigned for himself by distributing fliers in his neighborhood. He thinks it's crucial for more people his age to push for the issues that concern them most, like education and the environment.
Jacinto Hernandez, '00, agrees. A Gore fan from Memphis, Tenn., he hopes to join Aronowitz in L.A., while Sam Abrams, '02, a Bush supporter from Wynnewood, Pa., has set his sights on the July 31-August 3 Republican Convention in Philadelphia. "Young people don't think they can make a difference," says Hernandez, who is trying to get Stanford students fired up about November's election. "But they can impact the way the Democrats run their politics." And maybe even show the older folks a thing or two about throwing a good party.