Stanford has sent athletes to the Olympics for 100 years. The first was pole vaulter Sam Bellah, a sophomore at the time, who placed sixth at the 1908 London Games. Since then, the Farm has produced 193 Olympic medalists in dozens of events.
The Beijing Games too will feature an assortment of men and women who once ran, jumped, swam and played on the Farm. If they perform like Stanford contingents from previous Olympiads, they will earn, collectively, more medals than all but a handful of nations. (Stanford alums won 17 medals in the 2004 Athens Games—one more than Greece.)
What does it take for athletes to get to the Games? The answer, in many cases, includes overcoming broken or uncooperative bodies, and conquering fear, frustration and self-doubt. Alongside the triumphs, it seems worth considering these, too, when assessing the success of would-be alumni Olympians. Featured below are five who have strived.
---
Jessica Mendoza
Photo: Manuello Paganelli
At Beijing's Fengtai Softball Field, the United States and Japan had played to a scoreless tie when outfielder Jessica Mendoza came to the plate in the sixth inning. It was the gold medal game of the 2006 World Cup Championships, and Japan's flame-throwing pitcher Yukiko Ueno had stymied the Americans all day. Now the U.S. team had put a runner on base with two out.
"[Ueno] is the hardest pitcher ever and I remember thinking, 'I'm not going to let the ball go by me,'" Mendoza recalls.
What happened next came right from a storybook: Mendoza smashed a two-run homer to win the game and the championship. "It was a moment I had dreamed about since I was 6 years old—getting a hit when it mattered the most," says Mendoza, '02, MA '03.
This summer, the 27-year-old Mendoza anticipates another golden moment. The American women hope to win a fourth consecutive gold medal for the United States, a goal all the more pressing because softball has been struck from the Olympic stage until at least 2016. Mendoza, who was a member of the Olympic team that competed in Athens four years ago, already has one gold medal.
The International Olympic Committee's decision to drop softball is "obviously completely heartbreaking to me," Mendoza says. In October 2009, the IOC is scheduled to meet and decide which sports will be featured in the 2016 Games. Representatives for softball and baseball—which also was dropped—are mounting intense lobbying efforts to win reinstatement.
The U.S. team recently completed a 62-game, six-month exhibition tour across the United States. For Mendoza, the experience was about much more than the games themselves. "My purpose in being an Olympian is not just for the sport itself but also for the visibility it has given me to help others. I want to live my life in a way that I hope will positively impact another."
She has conducted clinics and made appearances in Guatemala, the Czech Republic and Afghanistan in recent years. In South Africa, Mendoza ran a clinic for 600 children in the slums near Cape Town. "You could see in the kids' eyes how grateful and excited they were about the attention we were giving them," she says. "I wished I could spend an hour every day after school with each one."
A high school star in her hometown of Camarillo, Calif., Mendoza chose Stanford over the University of Arizona and UCLA, schools with highly touted and top-ranked softball teams, even though the Cardinal program was just getting started. "Jessica took a chance coming to Stanford," says John Rittman, head coach of the women's softball team and an assistant coach at this year's Olympics. "She knew she had a world-class university off the field, and she decided she wanted to be a part of something new and be the first. She liked the challenge."
An American studies major as an undergraduate, Mendoza earned a master's degree in social sciences in education. She was a three-time Stanford Athlete of the Year and was named Pacific-10 Conference Player of the Year in 2000. In 2001, Mendoza led the Cardinal to its first appearance at the NCAA Women's College World Series. She has been a fixture on the U.S. national team ever since, and in 2006 was named the USA Softball Female Athlete of the Year.
After the Olympics, Mendoza will serve as president of the Women's Sports Foundation, founded in 1974 by tennis legend Billie Jean King to advance the lives of girls and women through athletics. She also plans to spend lots of time with her husband of two years, Adam Burks, who remained at the couple's home in Moorpark, Calif., for the past six months while Mendoza was on tour. "His unbelievable support is what keeps me going," she says.
—Felicia Paik, '88
---
Ben Wildman-Tobriner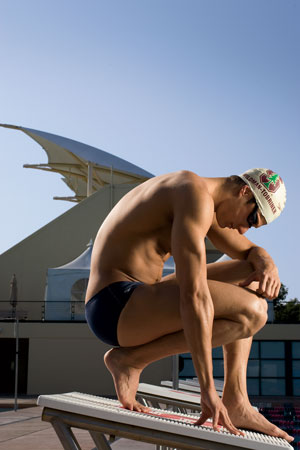 Photo: Glenn Matsumura
Swimmer Ben Wildman-Tobriner lay on the bench press in Stanford's weight room, heaving the bar up and down. He heard a noise, and stopped moving.
It sounded like someone had ripped through a thick cloth. Only it came from the left side of Wildman-Tobriner's body. Just nine months earlier, in March 2007, Wildman-Tobriner, '07, had become the darling of the swimming world when he captured an unexpected world title in the 50-meter freestyle at the 2007 World Championships. It was part of a productive year that saw the former Stanford star earn a degree in biomechanical engineering, take the entrance exam for medical school and sign a four-year contract with Speedo.
After his championship swim, and a subsequent first-place finish at the U.S. nationals last August, Wildman-Tobriner had emerged as a medal favorite for the 2008 Olympics in Beijing. To get ready, he undertook a training regimen that included workouts with Stanford's team in the pool and intensive strengthening exercises.
As soon as he heard that noise on the weight bench, Wildman-Tobriner knew he was in trouble.
An MRI later that day confirmed that he had torn his left pectoral tendon completely off the humerus.
"That was the first major injury of my swimming career and my life," Wildman-Tobriner says. "While no time is a good time to get an injury, that was pretty much the worst possible time." That night, he lay on his couch, his 6-foot-4, 200-pound body suddenly useless in the sport he had known most of his life.
From the beginning, Wildman-Tobriner had seemed destined for the pool. His mother, Stephanie Wildman, '70, JD '73, swam four or five times each week throughout her pregnancy at the former Olympic champion Ann Curtis Cuneo's swim club in San Rafael, Calif. When her son was 4, Stephanie brought him to the club for lessons. Just a year or two later, Curtis Cuneo pulled her aside. "He has a gift," she told her. By the time the boy was 8, he was setting swim league records. At Stanford, Wildman-Tobriner earned 20 All-America honors; senior year, he was named Pac-10 Swimmer of the Year and an Academic All-American.
Sitting on that couch the night after his injury, he felt disappointed. But from the next day on, he looked ahead. "I accepted that it happened and I knew that I was going to have to do a lot of hard work," he says. "But even if there was no injury, it was going to require a lot of hard work to get where I wanted to be." A few days later, he had surgery.
Not long after, Stanford coach Skip Kenney saw the swimmer, arm in sling, running sprints next to the pool while breathing out of a snorkel. When Kenney looked closer, he noticed that half of the snorkel hole was covered.
"In his events, he needs to take bites of air," Kenney explains, and the snorkel simulates that process. Still, the coach laughed as he recalled the innovative ways Wildman-Tobriner kept training. "The mental strength he has put into his physical recovery has made all the difference." Not that it surprised him. Wildman-Tobriner was always one to adapt. "He was always so coachable. He was willing to make changes even after he was a world champion," Kenney says.
A few weeks after his surgery, Wildman-Tobriner and his trainer ordered a custom-made wetsuit top from a shop owner in Santa Cruz. It had a hole for the swimmer's right arm and a covered sling inside for his left. He carefully tucked his now-atrophied arm into the sling, had a friend zip him up and returned to the water to swim with one arm. "Somebody better watch him," his teammates teased. "He might sink to the bottom."
Wildman-Tobriner swam that way for about a month, in addition to undergoing physical therapy. Then he let his left arm float freely while he swam. Then, slowly, he began using his left arm again. By mid-May, he was competing again, finishing fourth at a meet in Santa Clara.
"He was asking more from himself than the guys who were not injured," Stanford associate head coach Ted Knapp, '81, says. Wildman-Tobriner was focused on not letting the injury define him, Knapp notes, but rather "letting the recovery from it be his legacy."
With the Summer Games around the corner, Wildman-Tobriner said in May he felt close to full strength and he didn't think the injury would affect his performance at the Olympic trials, where he planned to compete in the 50- and 100-meter freestyle. Still, he keeps the wetsuit top in his locker. He figures maybe NBC will be interested in seeing it when he makes the trip to Beijing.
—Brian Eule, '01
---
Ogonna Nnamani
Photos: Manuello Paganelli
By second grade, Ogonna Nnamani had been hospitalized multiple times for asthma, and her doctor forbade her to play at recess. "I was devastated," recalls Nnamani, '05.
So when the 8-year-old watched the 1992 Barcelona Olympics, the performance of heptathlete Jackie Joyner-Kersee, who suffered from exercise-induced asthma, was particularly meaningful. Joyner-Kersee won her second gold medal at those games, on her way to becoming one of the most decorated female athletes in Olympics history. "I was so inspired," Nnamani says. "I felt like a new person."
Today, Nnamani rockets her 6-foot-1 frame skyward as a fearsome outside hitter on the U.S. volleyball squad. One of the top players in Stanford history—she still holds the career record for kills, with 2,450—Nnamani is best remembered for her achievements in the 2004 NCAA tournament. The Cardinal entered the tournament ranked No. 11 but reached the final against Minnesota on a 14-match win streak. Nnamani blasted the Gophers with 29 kills, including one from the back row that clinched the championship.
Selected to the U.S. team while still a junior at Stanford, she was the team's youngest player at the 2004 Olympics in Athens. She capped her senior year by winning the Honda-Broderick Cup, as the top collegiate female athlete in the nation.
Nnamani's last name in Igbo—her Nigerian-born parents' native language—translates as "one who knows the land." She draws inspiration from the triumph of her parents, who left their country to pursue degrees at Illinois State University. "My family is everything for me."
Growing up in Normal, Ill., Nnamani recalls how she and her sister, Njideka, '07—who also starred on Stanford's volleyball squad—escaped the region's frigid winters and humid, mosquito-infested summers by playing in the family's furnished basement, to the detriment of nearby lamps and glassware.
Nnamani has enjoyed good health for most of her career, but her asthma remains a challenge. While training with the U.S. team in Colorado Springs, Colo., in 2004, she suffered a brutal attack that wouldn't subside. She called Cardinal volleyball team physician R. Elaine Lambert for help. "Dr. Lambert put me on a regimen that immediately started to work. Without her, I wouldn't have had a chance to be on the team," says Nnamani, who plans to study medicine. She uses an inhaler, takes allergy pills and is extra cautious during seasonal transitions—especially from winter to spring—that can exacerbate her condition. She hasn't considered how Beijing's notoriously polluted air could affect her lungs but notes, "If I'm diligent with my medication, I'll be okay."
Nnamani served as a reserve player four years ago in Athens. Ranked No. 1 and projected to win the gold medal, the U.S. team lost to China, the Dominican Republic and Russia during pool play and was eliminated by Brazil in the quarterfinals. "It was heartbreaking, for sure. You move on, but you think about it every day," Nnamani says.
This summer, as one of the U.S. team's top scorers, Nnamani hopes to lead her fourth-ranked squad to the podium for the first time since 1992, when the United States snared a bronze. The team to beat: China.
—Laura Kaufman
---
Ryan Hall
Photo: Glenn Matsumura
Inside a bible that goes everywhere with Ryan Hall is a photo of Hall and a fellow runner standing toe-to-toe at the starting line of the U.S. Olympic marathon trials last November in New York City. It was the last race the two men would run together, and it signifies for Hall the importance of living with purpose. The other man in the photo is Ryan Shay, Hall's running partner and friend. Thirty minutes after the photo was taken, Shay, 28, collapsed on the race route and died of a heart attack.
"His memory inspires me," Hall says. "I don't know anyone in the world who trained harder that Ryan Shay. [His death] reminds all of us to seize the opportunity every day."
At the moment Shay lay dying, Hall was unaware of what had happened, and he learned about it only after he finished, in first place, qualifying for the Olympics in Beijing. "It was a dramatic and very emotional day," he recalls, trying to reconcile a personal triumph with a personal tragedy. "It was so surreal."
For Hall, '05, running has been an intensely purposeful pursuit since a day 12 years ago when he experienced what he describes as "a message from God." He was in eighth grade, in the middle of a 15-mile jaunt around the lake in his hometown of Big Bear Lake, Calif., when he felt a calling to compete in running at the highest levels. "I felt God had blessed with me this talent."
Hall says running and faith are inseparable for him. The night before every major race, he watches Mel Gibson's The Passion of the Christ to get mentally prepared.
"When I'm running I'm dealing with pain management," says Hall, 25. He recalls being in agony in the final two miles of the London Marathon in April 2007, his body yielding to a combination of 70-degree heat and a suffocating pace he had set earlier in the race. "I actually saw visions of the scarred body of Jesus, and it made me able to go on," he says.
Hall's performance in London—running his first marathon—thrust him into the world's elite class of long-distance runners. He finished seventh with a time of 2 hours, 8 minutes, 6 seconds. A year later, he established himself as a serious medal contender by finishing 5th in the 2008 London Marathon. His time of 2:06.17 was the fastest ever recorded by an American-born marathoner.
While at Stanford, Hall majored in sociology and was a three-time All-American competing in the 1,500 and 5,000 meters. And he met his wife, the former Sara Bei, '05, an Olympic hopeful herself in the 1,500 meters.
Hall's coach, Terrence Mahon, says Hall spends "every waking moment thinking about running." His daily schedule goes something like this: rise at 7 a.m., eat breakfast, run 10 to 12 miles, eat lunch, have a massage or an ice bath to ease the muscles, take an afternoon nap to recover from the morning workout, run another five to six miles, go to the gym for strength and flexibility exercises, eat dinner, go to bed. "It's basically a full-time job," Hall says.
"Ryan's greatest assets are his passion and dedication, which have brought excitement and enthusiasm to the running world," Mahon says. Indeed, after Hall's performance in the London Marathon, New York City Marathon director Mary Wittenberg told USA Today, "A star was born."
Hall's main competitors in Beijing will be three-time London Marathon winner Martin Lel and four-time Boston Marathon winner Robert Cheruiyot. Both men are from Kenya. Somewhere along the way, Hall knows he will need to call on his reserves, both physical and spiritual, to pull him through. He will think of Shay, and others who have helped him, he says. "I like to imagine that I'm just taking an easy run through the forest in Big Bear and that the prize I'm most longing for is to see Sara and my family at the finish line."
—Felicia Paik, '88
---
Peter Hudnut
Photo: Manuello Paganelli
He has endured two shoulder surgeries, 100 stitches to close facial wounds, and a spinal cyst that paralyzed his right leg. Peter Hudnut's body bears witness to the U.S. water polo player's favorite quote from Virgil: "Ruthless striving conquers all."

As he awaited June's final cut for the Olympics squad, the 6-foot-5 former Cardinal standout described his job this way: "Imagine running 100 yards as fast as you can, wrestling a linebacker while trying to hold your breath, then sprinting another 100 yards."
Los Angeles-based Hudnut, '03, first became enamored of water polo when he took coach Rich Corso's required class at Harvard-Westlake School. Corso, who in 1996 coached the U.S. Olympic team, took note of Hudnut's size, strength and motor skills and handed him an official 1984 Games satchel and a tape of the greatest goals ever scored. "From 10th grade on, his mission was to become a great player," Corso says. "I've seen a lot of great players, but as far as passion for the game goes, no one touches Pete."
At Stanford, where he majored in American studies, Hudnut earned All-America honors three times and helped lead the Cardinal to NCAA titles in 2001 and 2002. He credits his foreign policy courses with helping him understand international conflicts, knowledge that he put to use while touring with the U.S. team in Europe. Hudnut recalls long discussions with Croatian and Serbian players after the games had finished. "You have physical altercations during games, then you shake hands and form strange, competitive friendships," he says.
In 2003, while training for the 2004 Olympics, Hudnut developed excruciating pain in his right hip and leg. An MRI revealed a cyst growing between two fractured vertebrae, pressing on his sciatic nerve. Hudnut traced the injury to a game in which an opponent had kneed his spine. Surgery proved successful, and during his convalescence Hudnut buoyed his spirits by reading Touching the Void, a book about a mountain climber's miraculous survival.
He began rehab two months later—he did sit-ups and stability exercises beside the pool while fellow players lifted weights and swam. But the injury had set him back, and he was cut from the team. "Pete had his heart broken, but at the end of the day he stayed and trained with us. Most people wouldn't have done that," recalls teammate Adam Wright. "Everybody has a deep respect for him."
Hudnut maintains he wasn't disappointed by the outcome. "I went from not being able to walk to becoming an alternate on the Olympics water polo team, all in 10 months."
Since then he has played with professional teams in Rome and Barcelona when not training with the U.S. national team. In 2006, Hudnut switched from playing center forward—stationed near the goal to score—to center back, guarding the opposing team's center forward to prevent goals. "There's a lot more pushing and grabbing—a lot of wrestling," says Hudnut, who plans to continue playing professionally, then seek an MBA at Stanford with an eye toward working in the sports business.
But first he hopes to busy himself on the U.S. Olympic team "making the other team's center forward as tired as possible." Team USA faces a bracket that includes powerhouses Serbia and Croatia as it seeks its first medal since 1988.
"There's a huge task ahead of us," Hudnut says, grinning to reveal a front tooth discolored from a hit that led to a root canal. "Notice how my smile gets bigger. That's the point of playing, for the challenge and the desire."
—Laura Kaufman