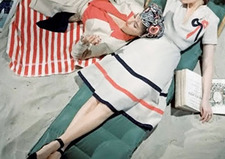 She looked very Sylvia Plath, a sorority girl with a soft pageboy, saddle shoes and a Peter Pan collar buttoned to the neck under a twinset cardigan. Long-limbed, pretty and fresh, Ann Weldy graduated from college right into the safe haven of marriage, as expected of young women in 1954.
Her husband's job took them immediately to Philadelphia, where Ann joined the ranks of wives in ruffled aprons. She was 22—six weeks older than Plath—and, like Plath, had written her way into and out of adolescence, observing friends and converting their goings-on into stories in her mind and journals. She thought she might do the same thing now, between sorting laundry and fixing dinner, while waiting to have children. "Writing was the first thing that occurred to me when I was married," she recalls. "The fun of it was the creative side, when you are telling a story and you are in control."
And then she read two books that transformed the way she understood herself, launched a meteoric career and—though she wouldn't know it for more than 30 years—earned an iconic perch in 20th-century literature. A retired university dean, this 70-something grandmother with the big smile is the queen of lesbian pulp fiction. Her mid-century novels about four characters coming to terms with their homosexuality, wrote one academic, "rest on the bookshelf of nearly every even faintly literate Lesbian."
As Ann Bannon (a pseudonym chosen to shield her family from embarrassment) she churned out five paperback novels between 1957 and 1963 that collectively became known as The Beebo Brinker Chronicles. Then she quit. Ann Bannon, she thought, would cease to exist, just as she assumed that her books—printed on cheap paper and sold by the hundreds of thousands at magazine stands—would crumble and disappear.
But more than 50 years after the 1957 publication of Odd Girl Out, Bannon's books have been reissued five times, featured in documentaries, parsed by academics and discussed in college courses. The lurid covers featuring chesty young women and torrid promos are highly collectible. HBO has optioned the books for a series. Playwright Linda S. Chapman, who along with Kate Moira Ryan adapted the books in 2007 for an off-Broadway play, says, "There is something emotionally truthful about them that keeps bringing us back. They have been read by many, many generations of women coming out."
Weldy was indifferent to the whisper of turning pages. She was busy raising children and, for their sake, sustaining a marriage that lasted 27 years. While the novels went "wandering off, making friends for themselves," Weldy, PhD '75, became an English professor at Sacramento State University, then an associate dean of the School of Arts and Sciences. Writing was limited to academia. ("A Semantic Approach to Narrative Fiction" by Ann Thayer Holmquist—her dissertation—was an analysis of Edmund Wilson's story, "The Princess with the Golden Hair." "Basically," Weldy says, "it was about what men say when they are trying to lure a woman into bed.")
What stirred a 1950s bride to write novels that shaped not only heterosexuals' view of lesbians, but also the views of lesbians themselves? Why were her books, of the dozens available on drugstore racks, so influential?
After she moved with her husband to Philadelphia, Weldy picked up Radclyffe Hall's groundbreaking 1928 novel, The Well of Loneliness, and a popular 1952 pulp novel, Spring Fire by Vin Packer.
Spring Fire, set in a Big 10 university, seemed to Weldy to echo her experience at the University of Illinois at Urbana-Champaign, where she had been "consumed" by the infatuation of a younger sorority sister for an older sorority girl. Weldy's interest, she realized, wasn't just curiosity: She was already questioning her own sexuality. "As I read through it, I thought, 'Oh my God, I can do this!' I sat down and started writing."
Weldy corresponded with Spring Fire author Marijane Meaker (who wrote as Vin Packer, M.E. Kerr and other pseudonyms) and eventually met her in New York. An introduction to Meaker's editor followed. He told Weldy to refocus the book on the turmoil caused when her protagonist Laura Landon falls in love with another woman.
Weldy began commuting between Philadelphia and New York, her evenings there spent smoking, drinking and romancing in the gay bars of Greenwich Village. It was thrilling. "In my dream life, I was convinced of nothing in the world so deeply as the beauty and passion of same-sex love," she wrote in 2002, in an introduction to a new edition.
And it was terrifying. "I would sit there thinking, 'What if a police raid happens tonight and I get hauled
off to the slammer? I couldn't imagine living through it: the exposure, the loss of employment, the dismay of friends. It would be a cloud that could follow you through your life. . . . But I most intensely lived that year that I was able to get up to New York."
Beebo Brinker—"literally the butch of my dreams"—makes her first appearance in I Am a Woman, published in 1959. Beebo drank heavily, womanized freely and was so averse to femininity that she worked as an elevator operator because the uniform required pants. Laura's relationship with Beebo drove the narrative in subsequent books. The last, a prequel to Odd Girl Out, was published in 1962 and simply called Beebo Brinker.
Weldy shrugs off the label of lesbian—Chapman calls her "remarkably agile in the way she sees herself"—and considers sexuality a continuum. "Nobody is totally one way or another. One of the problems of settling on a label is other people . . . think they know everything about you."
She did realize "early on" that she shouldn't have married, but she remained married until 1981 and her two daughters, Jane and Inga, '81, were grown. And maybe, she wrote in a 2002 forward to Odd Girl Out, "I was just plain scared to assume an identity that seemed to me full of mystery, one which I was just beginning to recognize and understand."
What made the Bannon books different? Happy endings, real emotions and explicit sex. They sent a message: "There are a lot of us and we are okay." These were pre-Stonewall days, when police did raid gay bars and the U.S. postmaster passed judgment on contents of the mail. "It was the moral judgment of the U.S. Postal Service that 'We cannot deliver this stuff . . . unless one of the protagonists is punished by the last page.'" Of Beth's and Laura's story in Odd Girl Out, Weldy says, "It was not in my nature to do what was essential in those days—kill one of them at the end or have one of them go crazy."
Not that the characters didn't suffer the guilt and uncertainties of relationships the rest of society considered immoral. Laura's first lover marries and has children in an attempt to deny her sexual identity; an older gay male laments that younger men are only attracted to his money. Laura initially agonizes over her attraction to a sorority sister: "She thought that homosexual women were great strong creatures in slacks with brush cuts and deep voices. . . . 'I don't want to be like them. I'm a girl. . . . But if I'm a girl, why do I love a girl? What's wrong with me?'" She would succumb in delicious detail.
Writer Jenifer Levin captured the heat of the Bannon books in "Beebo Lives," an article in a 1995 Harvard Gay & Lesbian Review. "From the midst of a repressive era, from the pen of a very proper, scholarly, seemingly conforming wife and mother, came this astonishingly open queer figment of fictional being, like molten material from some volcano of the lesbian soul."
"Beyond any doubt, I was exploring my own psyche and my own needs," says Weldy. "I had absolutely no idea it would be 50 years later and I would be talking about these books. It's quite a personal thing, stunning really. I have owned them and I am proud of them. Life is full of surprises."
---