Akshay the Inventor
What happens when a multitalented tinkerer graduates.
Photography by Toni Bird and video by Erin Attkisson
MaY 2020
Does Akshay Dinakar, '19, have some ideas? You could say that. He left Stanford last year with an engineering degree in product design—and more than a dozen designs and prototypes for inventions in fields ranging from music to bioengineering to entertainment. Some of his designs are open-source, making those technologies replicable around the world. His philosophy: "In today's tech world, there's so much ambiguity about what's good or bad. Whatever it is that I create or contribute, I want people to agree that it's a good thing." In addition to expanding his own design portfolio, Dinakar has been taking advantage of Cardinal Ventures, an on-campus accelerator program for student start-ups, to help launch his consumer product company, Tangible. As for how he manages to do it all? Well, that's a proprietary combination of ambition, positivity and a whole lot of sticky notes.
Terrain
Remember the bed-of-nails sensory toy? You depress one side to see a pattern raised on the other. This is its tricked-out electrical equivalent—a touch pad connected to a physical 3D matrix. It's an early direction for Tangible, but shh—that's under wraps.
Moonwalk
"I have direct family experience with someone who experiences neuropathy, which is nerve damage that leads to numbness in the hands and feet," says Dinakar. So, using household materials, he created a prosthetic sensor that uses haptic feedback to improve mobility and balance.
Stikato
"The world's most portable music stand" sticks to any surface and improves posture for traveling musicians. Dinakar was a violinist in the National Youth Orchestra and has performed around the world.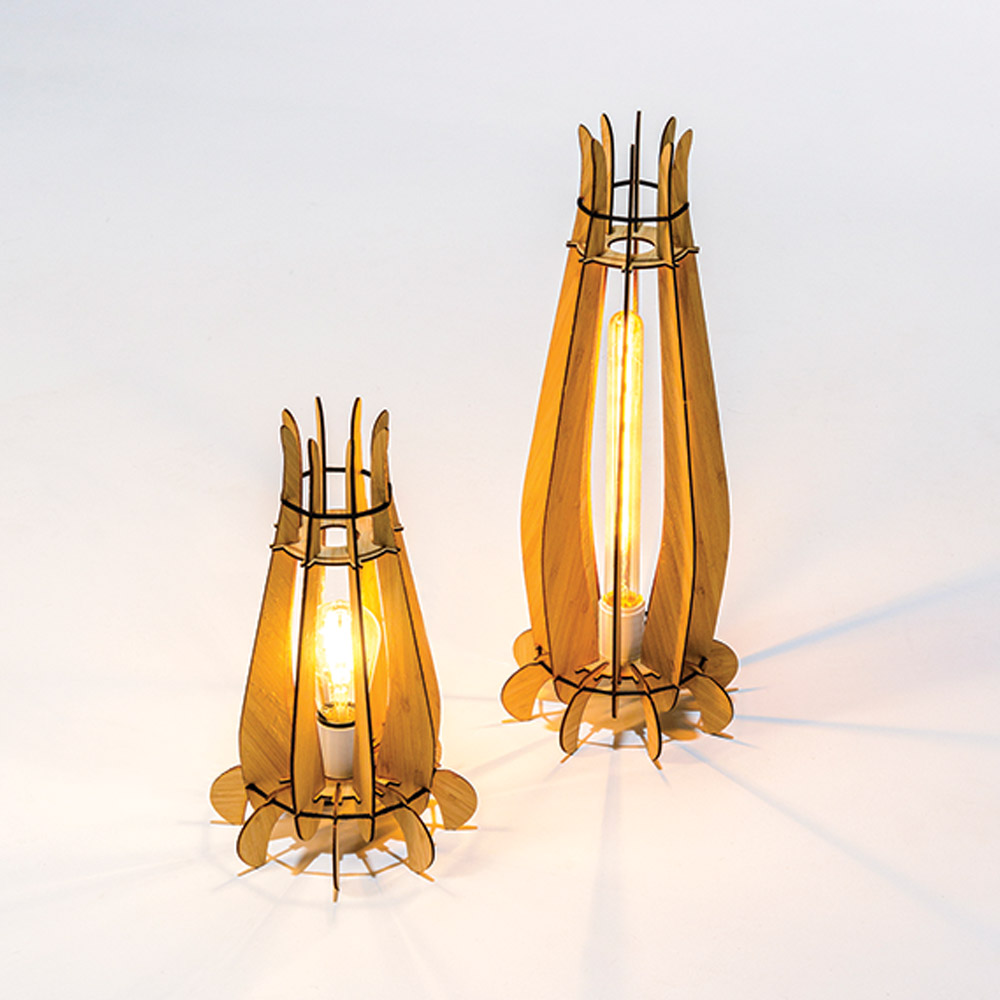 Diya
Designed to reduce waste during manufacturing, these sustainable bamboo lamps inspired by Indian mythology require no hardware to assemble.
Robot Suit
A USB-rechargeable suit featuring LEDs, lasers and a built-in speaker system that connects to your phone. After wearing the suit to the roving campus party Nomad a few times, "I was kind of this anonymous celebrity," Dinakar says. Rumor has it "that people used to call me 'Halo Man.' "
Melina Walling, '20, is an editorial intern at Stanford.