HORSING AROUND IN HALF MOON BAY
As she leads two of her striking black horses out for a run in the front pasture, Melinda Takeuchi deeply inhales the salty morning air and smiles. "For years, I felt guilty if I took a bath," she says, recalling her marathon days as a junior faculty member. "Once you reach a certain watershed in your career--for me, it was getting tenure at Stanford--you take stock of your life, come up for air, look around and say, 'Is this all there is?'"
For many of Takeuchi's colleagues, the story is remarkably similar. Finally clutching the brass ring of tenure, Baby Boomer profs are rediscovering passions they haven't enjoyed since childhood. Some, like Takeuchi, find joy and satisfaction in reconnecting with animals. One Stanford professor races motorcycles, while another makes award-winning wines in his driveway. For all of these scholars, teaching and research will remain priorities for many years to come. But it's nice to know that after hours, when they get home and out of their work clothes, a fine glass of wine and maybe even a warm nuzzle await them.
It's 6 a.m.--barely light in the misty foothills surrounding Northern California's Half Moon Bay--but already the glossy black horses are at the back gate, pacing and whinnying for their breakfast. Melinda Takeuchi, a 56-year-old associate professor specializing in Japanese art history, calls them her babies. "They know when I'm awake, so every morning I shout and wave good morning to them through the bedroom window," she says tenderly. "They can read body language like a Hindu scholar reads Sanskrit."
Two years ago, Takeuchi, her husband, Nori, and teenage son, Nicholas, moved to this four-acre piece of horse heaven so that she could pursue her dream of raising Friesians, the same exquisite breed that actor Antonio Banderas rode to fame in "The Mask of Zorro." She now owns four of the black beauties--a feisty gelding named Zebediah and three fillies, whom she feeds and shovels up after every day following work. "It's a nice way to unwind at sunset," the sturdy, good-natured woman says, dusting off her hands and gazing out at the fog-shrouded coastline. "After a day hunched over my desk, I love the manual labor of getting filthy, lifting heavy loads and sweating."
Takeuchi's passion for horses dates back to her childhood in then-rural Malibu, where she cleaned out a neighbor's corrals in exchange for horse-boarding privileges. For seven years, a mare named Dinky was her best friend: "I could ride her anywhere without a bridle, in the hills or on the beach, just like a centaur." When Takeuchi left home, she also left the horse world behind for some 30 years, not returning until she had earned tenure in Stanford's Art Department and bought a run-down property in Woodside, then a horse-friendly town. ("It's now yuppified," she snorts.)
Friesians caught Takeuchi's eye while she was thumbing through a breed book. Developed in Holland to carry medieval knights in armor, they combine the power and bulk of a Clydesdale with the elegance and springy step of a much lighter horse. They remind Takeuchi of the horse figures adorning ancient Shinto shrines -- images she shows on slides to her art classes. "There's just something about their curves that appeals to the art historian in me," explains the scholar, who is now working on a book about the horse culture of Japan. "The haunches, the conformation, the neck, the ears . . . it's as if they were created by master artists."
Qualified Friesian breeding stallions are so rare that they can cost up to half a million dollars.
Eventually, Takeuchi hopes to defray some of her costs by breeding her fillies. Not just yet, though. "They're still babies," she says. And she plans to enjoy them that way as long as she can.
PLY IN THE SKY
Photo: Glenn Matsumura
The flight attendants have turned off the fasten seat belt signs, and passengers are free to move about the cabin--except for Neil Risch, who's glued to his seat by a seven-inch square of green and white paper. Drawing curious stares from his fellow L.A.-bound travelers, the Stanford genetics professor peers at an instruction book on his tray table, then makes a series of quick, precise folds, transforming a lifeless piece of paper into a fearsome, bug-eyed alligator. "The trouble with doing this," he says with a smile, "is that the flight attendants are always asking if they can have the results!"
Practicing the 2,000-year-old art form of origami at 35,000 feet is a great form of mental and physical relaxation, Risch says, particularly on the long flights that take him to genetics conferences all over the world. But creating such intricate figures out of simple, uncut pieces of paper also provides a mental challenge. "There's a lot of geometry to this, turning a two-dimensional object into something three-dimensional," the 49-year-old scientist explains. And like the human genome he studies, he says origami can be thought of as a kind of blueprint for life. "Just as no two human beings are identical, each piece of origami will be different depending on how you make the precise folds and what color paper you use. It's the little flaws that make them beautiful."
Risch was a mathematically precocious third-grader in West Los Angeles when a schoolmate first showed him an origami springer spaniel fashioned out of white paper. "I saw the thing," Risch recalls, "and I just went nuts." There weren't many origami books in English at the time, so Risch rapidly ran out of new things to make. Then, five years ago, after he joined the Stanford faculty as a genetic epidemiologist, he was browsing through the campus bookstore and had a joyous revelation: since his boyhood, the world of origami had blossomed like a cherry tree.
Seizing a stack of books, Risch took them home and began folding a paper menagerie of complex life forms. His most difficult creations--a knight on horseback and a man playing a bass fiddle--took about four hours each. "In the old books, the most complicated models took about 20 steps," he says, "but now they're up to 120 steps." Risch seeks occasional guidance from the Bay Area Rapid Folders ("BARF for short"), an origami club that meets once a month.
Risch gives many of his creations to his 86-year-old mother and keeps others on display at his San Francisco home. But his biggest collection stays corralled in the office of the genetics department's business manager, Karen Carpenter. "I appreciate the artistry," she says of her multicolored zoo, which includes a blue otter with legs that move, myriad birds on wooden sticks, sea creatures and a foot-high gorilla. If she's lucky, she'll soon have another critter to add to the collection. Risch's next flight to L.A. departs in a week.
BORN TO BE WILD
Photo: Glenn Matsumura
Veteran racing teammates may tease that he's "the world's fastest academic," but Jeffrey Schnapp, the Rosina Pierotti Professor of Italian Literature, has proven he's one tough biscotti. Witness the scene four years ago when he was taking a practice run on a vintage Ducati racing motorcycle at Sears Point Raceway. He had just dropped into the Carousel, a high-speed downhill turn, when suddenly the rear wheel came loose. The bike shot out from under him in one direction while he went in another, sliding on his backside at more than 100 miles per hour into a pile of hay bales.
The motorcycle's beautiful Italian fiberglass body was "ripped to shreds," he laments. But remarkably, the lithe professor walked away from the crash with only a few bruises. Nor has he ever been seriously hurt in any of the races in which he's competed during the past five years. "I'm careful," explains Schnapp, who chairs Stanford's French and Italian department and heads the new Humanities Laboratory. "Riding takes a lot of time and patience to master. It's not about being a fearless speed freak. That will only get you into the hospital."
A Dante expert who is fluent in six modern languages plus Latin and a bit of New Testament Greek, Schnapp is a self-described "eccentric literary historian" who has been revved on motor sports since he was a kid growing up in Mexico City. He bought his first motorcycle, a two-stroke Yamaha sport bike, in his early 20s when he was working as a visual artist and university lecturer in Nice, France. "I had an apartment in Villefranche sur Mer, a small fishing village outside of Nice," he recalls, "and I'd drive it to work on the Grand Corniche, one of the most spectacular highways in the world."
The professor's current race bikes--an ultralight, fire engine-red 1998 Honda rs 125 and a beefier silver 1996 Aprilia RS 250--reflect both his love of Italian design and respect for Japanese engineering.
During a typical eight-lap sprint race, Schnapp may bang handlebars with 10 to 20 other riders vying for space at the front of the pack, with another 40 riders close behind. He wears a protective red-and-white leather suit that feels almost suffocating in the Central Valley's 100-degree heat.
At 46, Schnapp admits he is one of the older riders on the circuit. But he's having way too much fun to quit, especially since last year was his most successful yet. It culminated in a 3-foot-tall trophy for his team's sixth-place overall finish at the afm Fall Classic Four-Hour Endurance Race at Thunderhill. Motorcycle racing has carried over into the academic side of his life: he's now writing a book that examines how various transportation modes influenced modern notions of individuality. Its tentative title: Crash (An Anthology of Speed).
A QUANTUM LEAP
Photo: Glenn Matsumura
Robert Laughlin, winner of the 1998 Nobel Prize in physics, is a man who likes to understand things. So when he goes to the movies, he doesn't just sit back to revel in the cinematic moment. Instead, he listens intently to the soundtrack. "Whether it's at the movies or a formal symphonic performance, I'm constantly trying to figure out how they do it," the tousle-haired professor confesses, sitting near an antique Steinway in his living room overlooking the Stanford foothills. "I actually find it very stressful."
It's been this way with music ever since Laughlin, the Anne T. and Robert M. Bass Professor in the School of Humanities and Sciences, hit middle age. Sure, he hammered away at piano lessons as a kid growing up near Fresno, and he took music theory when he was an undergraduate at Berkeley. But it wasn't until 10 years ago that Laughlin, now 50, actually got it--a deep understanding of the principles underlying Western music theory. The epiphany came when he found an old volume called Classical Style by Charles Rosen in a Mendocino bookshop. Laughlin says he had not thought about playing the piano for 20 years, much less composing. "But I brought this book home and read it," he said. "Actually, I read it several times. And then I thought, 'Okay! I can do that!'"
Laughlin composed his first piano sonata in his head during the early '90s, while he was commuting to campus in bumper-to-bumper traffic from his former home in the East Bay. If the thematic material vanished from his mind during the day, he says, "I knew it was no good." But if it stuck in his head, he'd go home and write it down after dinner, working late into the night on a small Macintosh computer he uses with an electronic keyboard and headphones to keep from waking his two young sons.
Over the next decade, he composed three more sonatas, each in a different key and progressively more difficult. The last one, which Laughlin describes as an energetic, angry piece in C minor, "nearly killed me," he says. "Somebody once said that troubled children always turn out the best, and this is no exception. This is the best one because I had to think harder about how to resolve it."
Since winning the Nobel for his groundbreaking work in quantum mechanics, Laughlin has been traveling, so he hasn't had as much time to compose as he would like. Someday, though, he would like to record his sonatas on compact disc and perhaps even publish them in a music journal. In the meantime, anyone wanting to listen to Laughlin's compositions can download them from his website: http//large.stanford.edu/rbl/index.htm. "[Movie composer] John Williams I'm not," he says candidly. "Society is so complicated now that you can't be a true Renaissance person anymore. But at least you can aspire to it."
HIS OWN PRIVATE LABEL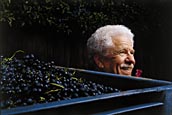 Photo: Glenn Matsumura
When Robert Simoni was growing up in San Jose during the 1940s, autumn was a time of family ritual. Grandpa ("Papa") Vincent Simoni, an Italian-born railroad worker, would stack dozens of crates filled with sun-warmed grapes next to his cellar door. Then he would summon his adult sons to the house, where they would pitch the oozing fruit down wooden planks into a huge basement vat. "It was my father's and uncle's job to do the stomping," the Stanford biochemist recalls, grinning. "My job was to get in the way and eat the grapes."
Fifty years later, Simoni is continuing his family's winemaking tradition in the detached garage of his tidy Palo Alto ranch house. "It's a perfect hobby for me," the curly-haired professor explains, opening the door to the chilled room where some 2,500 bottles rest in wire-fronted cabinets. "As a scientist, I like understanding the biochemical process of wine fermentation and how you can influence it for the better." But really, he says, "it's an amazingly simple process. If you have good grapes and keep everything clean so you don't get contamination, things turn out pretty well."
Simoni, 61, buys his grapes a half-ton at a time from a number of Northern California growers. Each fall, like an expectant father, he waits anxiously for a phone call telling him the grapes are ready. Then he or his wife, Diane, heads up to the vineyard in a rented pickup truck, just in time for the early morning harvest. Waiting in the driveway on his return are his partners in winemaking: his eldest daughter, Susan, and two former biochemistry colleagues, now professors at Berkeley and UCLA.
The rest of the day, the pace at Simoni's house is frenetic. As bemused neighbors peer over the fence, the partners take turns standing in the bed of the pickup with a pitchfork, tossing the grapes into the hopper of a machine that removes the stems and crushes the fruit. Chardonnay pulp flows into a barrel-sized, hand-powered press, while crushed red wine grapes with their skins on are left to ferment in a plastic bin for pressing later. After one to three weeks, Simoni siphons the fermented juice into French oak barrels for aging in his garage. The process takes about six months for white wines and up to 24 months for reds. "The intense work lasts only a day or two, and then all through the winter and spring there's not much to do--other than tasting," he says, smiling impishly.
In fact, wines bearing the Simoni Wine Cellars label are more than okay. Several of his full-bodied, fruity chardonnays have won medals at the California State Fair. "My grandson Steve is 9, and he's been coming over for the winemaking in the driveway every year since he was born," Simoni says. "I think my grandfather would be proud."
MARKIE STEALS THE SHOW
Kitten Rodwell/Flashcat
Some folks call him Rasta Dog. To others, he looks like an animated dustmop. But when Markie springs into the ring with neurobiologist Susan McConnell, the judges sit up and take notice. After all, this is not your ordinary Hungarian sheepdog, or Puli. He's Champion Prydain Trademark, H.T., winner of five Best In Show titles and two national specialty ribbons--the epitome of his fuzzy breed. "For a non-professional trainer to win with a dog at this level, it's as if an amateur scientist were able to publish a paper in Science or Cell. It's big-time," says McConnell, cuddling Markie's dreadlocked head.
McConnell has been smitten with these unusual animals since she first saw one at a dog show when she was an Indiana preteen. Markie's unusual corded coat harks back to the breed's origins on the windswept steppes of Central Asia, where it provided protection from biting cold and snapping wolves. It's a real challenge to keep clean, so on the day before every show, McConnell gently shampoos the dog "like a sweater" in a waist-high tub she installed in the laundry room of her campus house. Drying Markie in front of a blower takes about four hours, followed by an expert final trim. She drives him to competitions in her Ford Explorer, sometimes traveling as far as Arizona or Oregon in a single day.
McConnell, 42, got her first Puli as an undergraduate at Harvard, hiding him for a year-and-a-half in her dorm room before the housemaster evicted them. Fortunately, her husband of six years, Medical School professor Richard Scheller, is more understanding. ("I had to win over the dog," he admits, "before I had any chance with Sue.") The couple now has two of the fuzzy dogs underfoot--not to mention squeaky toys. Seven-year-old Markie's future mate is a 2-year-old female named Fizz, whom McConnell plans to begin showing and breeding next year when Markie retires.
McConnell says working in close partnership with such a smart dog as Markie has given her insight into the complexities of mammalian brain development and innate behavior, her field of study. But there's another incentive: "Science is an inappropriate outlet for the competitive part of me," she explains. "The point of doing experiments is not to win." At events like last year's national Puli specialty show, all that professional detachment can go right out the window.
In that contest, McConnell knew the judges were down to Markie and just one other dog, whose owners were annoying braggarts. "That really got my dander up, and the whole morning my stomach was just turning and the pressure was on," she recalls. "Then we got into the ring, and I have this very explicit memory: I stood there and grinned to myself and thought, 'God, I love this!'" She keeps the first-place ribbon, along with hundreds of others, in a glass-fronted cabinet--right next to the tub where Markie has his baths.
---
Theresa Johnston, '83, is a Stanford contributing writer based in Palo Alto.